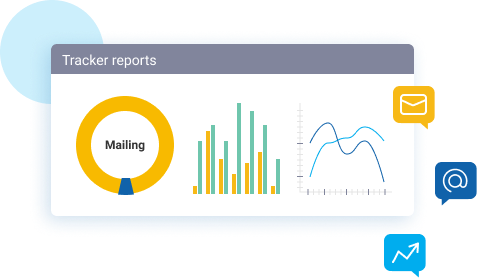 Atomic

Email Tracker

Web-based email tracking service for sent email messages.
Monitor your campaigns with Atomic Email Tracking Tool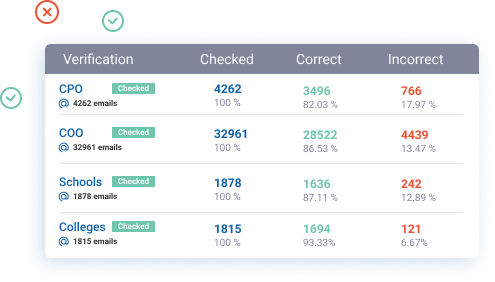 Email Message Open-and-Click Rates
Use the email tracker online to view the percentage of recipients who open your messages, learn how often they click the links, and analyze click-tracking behavior.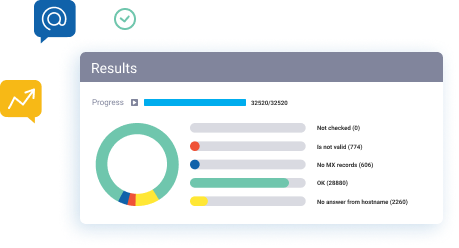 Track the Countries and Times the Messages were Opened
Find out the percentage of readers from your own country as well as abroad. Moreover, keep track of detailed statistics on the opening times of the newsletter on the control panel such as the days of the week and the time of day when readers read the email messages.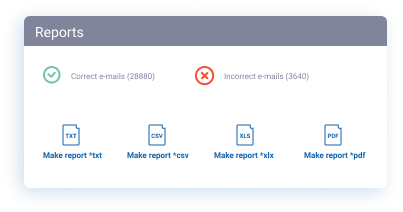 Compare Email Campaigns
Visualize the comparison of your email campaigns with this email tracker tool. One of the criteria for measuring the effectiveness of each campaign is determining the number of read and linked messages (all and unique).
Why Atomic Email Tracker is the best solution
Tracks the total number
of subscribers
All sent campaigns are provided with statistics while including the total number of sent, opened, and linked email letters simultaneously.
Tracks subscribers
by countries
It makes it possible to view the percentage of readers from your own country as well as abroad.
Records the elapsed
reading time
You will be able to see detailed reading time statistics on the control panel when using this email tracker online.
Evaluate response dynamics
You will be able to examine the responses in detail depending on the month, day of the week, or time of day.
Compare the effectiveness
of different campaigns
Compare the various parameters of any two sets of mailings.
Reports
Our service can create and send regular reports or RSS statistics reports to your mailbox.
How to Start the Email Tracking Process
From the menu, choose "Service – Atomic Email Tracker"
Enter your email address, password, and campaign name
View the necessary
statistic

Atomic Tracker is an online service for monitoring the effectiveness of advertising campaigns. When you use it, you'll have the opportunity to find out which subscribers actually read your newsletters and which links they click.

Atomic email tracking service is very easy to use especially if you plan to use it together with Atomic Mail Sender. It does not require any additional settings from you or changes in the existing mailings. Email sender does all the settings automatically when sending an advertising campaign. Would you like to find out all the benefits of free email tracking? To get started, just. Registration won't take more than two minutes to do. You will start to know a lot more starting from the next newsletter.


Reasons Why Our Customers Like to
Use Atomic Email Tracker
This is a super great software. I love it.

Great software! Great script Tracker! Amazing work, really! ... Keep the awesome work!

I like to find a best email blaster software for corp newsletter

Subscription Plans
Best
Choice
Annually
Get 2 free months for only
79.85 USD
ADD TO CART
Simply register and try the
free demo version
Atomic Email Tracking System — Main Features

Each time you send out an email campaign, you will need to track all the messages that you have sent. You might ask yourself the following questions:
Who has received your newsletters?
Our opened email tracker tool will give you all the detailed information that you need. You will be able to see the rate which reflects the percentage of all opened emails.
When and where have they been read? Atomic email tracker online can show you the date and time when the newsletters were opened. It can also give you the information about the devices that were used for reading these email messages.
What were the links that have been clicked?
Our service can show you the click-through rate (which is the ratio between the clicks and all the links that has been sent).
How effective is the current campaign compared to the previous campaign?
Atomic email tracking service will allow you to compare and analyze the results of two or more campaigns sent out at different time frames.
The answer to these questions (as well as other questions) can be sent to you through email tracking and other specialized dedicated tools developed for this specific purpose. One of these tools is Atomic Email Tracker.
How Atomic Email Address Tracker Can Help Your Email Marketing Campaigns
The system traces all newsletters that have been sent and collects all the statistics about your email campaigns. The tool will integrate with your project seamlessly. You will be able to easily connect Atomic Tracker to any mass mailing program. Additionally, the tool is so user-friendly that working with it will be very easy.
Access data on opened emails, click-throughs, pages visited, and much, much more. Defining who to communicate with as well as where and when to
send the mass emails
is the key to effective email campaigning.
Thus, you will be able to track the success of your newsletter as well as analyze and correct all the mistakes that were made. Our email tracker tool is indispensable for every mass email marketer! You plug-in and get started straight away—no specific technical knowledge or additional effort is required!