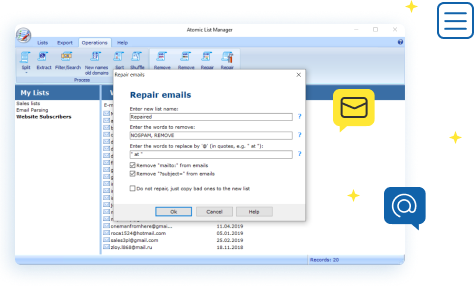 Atomic

List Manager

Powerful solution to make mailing data perfect
Protected from virus and malware
Recommended by 99% of our users
Get all the data that you need about your target audience in a single click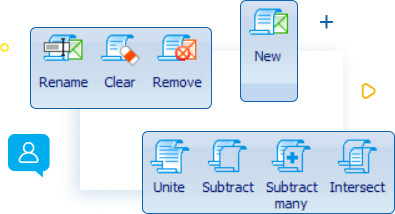 Managing Options
Our mailing list software executes up to 19 different operations for managing your mailing info. At the end of the process, you will get a fresh, high-quality–and unique–mailing catalogue. Here are the other
useful features of this tool
.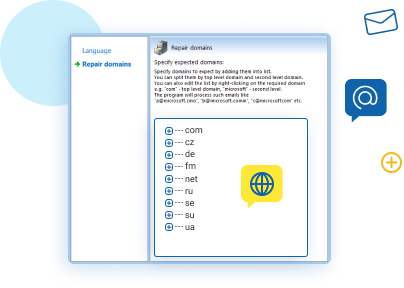 Detecting Domains
Atomic Manager contains a built-in catalogue of domains. You will be free to add more domains or eliminate the nonexistent ones, so that the program will find the maximum number of email addresses.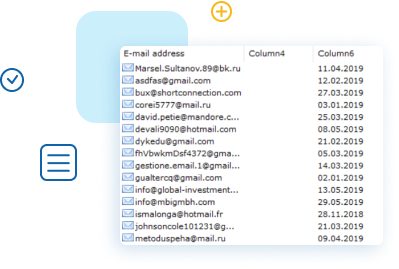 Unlimited Lists
The email list management software will allow you to upload an unlimited amount of data. Moreover, all the additional information will be displayed in the results as well.
25%
In-house studies showed that
Atomic Manager

increased the ROI by up to 25%!

TRY IT FOR FREE
How to install List Manager on MacOS
Intel or Apple M1
Take a look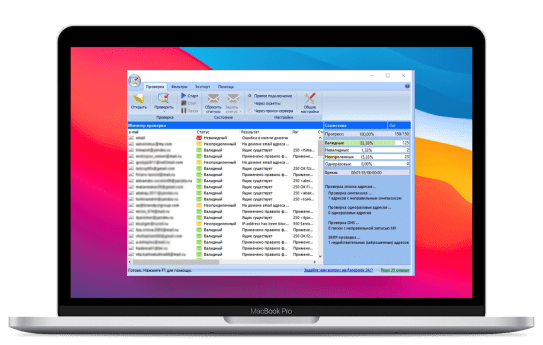 Why Atomic List Manager is the best solution
Sort and remove duplicate email addresses
You will receive a mailing list with unique addresses only
Split the amount of data
You will be able to break a long dataset into parts or smaller lists
Repair damaged email addresses
The damaged email addresses will be corrected by comparing them with well-known popular domains
Add names to an email catalogue
It will allow you to send personalized mailings
Delete suspicious email addresses
The program for mailing list will find and delete wrong email addresses
Combine two or more catalogues together and turn them into a big one
Get one huge list for sending mass mailing campaigns
Make your mailing data perfect
These are the reasons why you should use Atomic List Manager
Great Email Manager Best On the Market..By Far..Tried the Rest Now Try the Best...!

The best email list editor in the market at the moment!

Email The Atomic Manager is just perfect! I had tried so many others, and it was waiting right here. Thank you, guys!

Latest updates will make your work even easier
Atomic List Manager 6.02
2021-06-07
Fixed the "out of memory" error when importing a text file larger than 200 MB
Fixed import of contacts from a file containing unsupported characters
Minor bugs fixed
Optimization of the program installer
See more
Experiencing technical issues?
Contact our customer support to quickly resolve issues as well as experience excellent customer service.
In case you're wondering…
What Atomic Manager is capable of doing
Our mailing software executes up to 19 different operations. At the end of the process, you will get a fresh, high-quality–and unique–mailing list which can:
Sort
Remove duplicate email addresses
Split lists
Add names
Save email addresses only
Check for incorrect addresses
Generate new lists
Repair email addresses
Delete suspicious email addresses
Check the first domain
Combine two or more lists together to turn them into a big one
Merge email addresses
Intersection (of two or more lists): Extract email addresses that are common for all lists
Filter pattern match
Filter by fields
More features you can read in Atomic Manager manual.
Why should I use Atomic List Manager
Sending bulk newsletters requires managing a huge number of email address lists. It's a well-known fact that high-quality mailing lists are the basis for a successful email campaign.
A small amount of data can easily be managed by using a simple spreadsheet, whereas others need much more powerful and functional solutions for mailing list software. This is where the online email marketing list manager takes center stage. It's capable of working with one–or several–email lists. Plus, it supports mailing lists of any size and, in addition, performs several other functions at the same time.