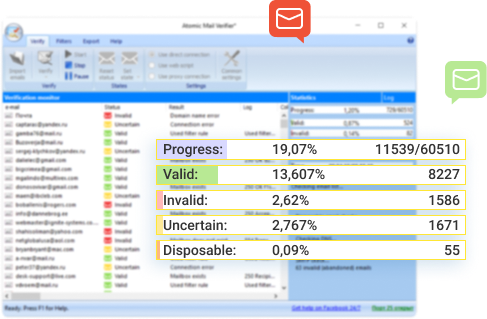 Atomic

Email Verifier

Increase the email server confidence level of your messages
Protected from virus and malware
Recommended by 99% of our users
Ensures that you get genuine leads
Atomic Mail Verifier provides a three-step verification process that will allow you to weed out the maximum number of nonexistent email addresses
Syntax check
Domain check
Checking the domain existence provides base with valid email addresses.
Email address check
Making a request to the server Atomic Email Verifier will determine the validity of emails with great accuracy.
This matrix of tools is designed for:
Email Marketer
keeping your newsletters and marketing campaigns under control of the email verification tool and getting the routine duty done fast, reliably, and in a timely manner
Outreach Manager
making sure that your branding is truly visible to customers in a supervised yet smooth manner via the email validation tool and promoting your services to the selected users
Entrepreneur
creating a more solid database of consumers who are truly interested in or might become fans of your services with the help of an intuitive email list checker
Stop paying extra for bulk email services that you don't need

Mass email verifier no longer requires your participation. It analyzes each email and determines the status of the address (whether the mailbox exists, is it correct, etc.).
What's the difference?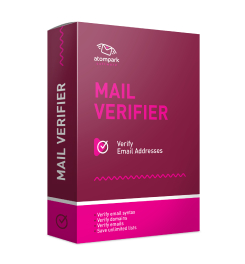 vs.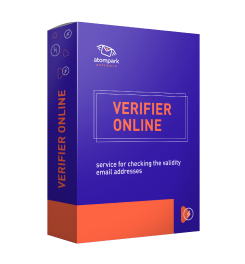 Atomic
Email Verifier Online
No longer problems with hard bounces!
Atomic Mail Verifier has proven its extreme efficacy for multiples industries, including:
eCommerce
the software of this email address verifier comes in handy whenever you require providing prompt and accurate insights of end users and analyzing different market flows
SaaS
delivering applications on the internet without difficulty doesn't compromise the need to check if an email is valid, and that's where Atomic Mail Verifier is your genuine lifesaver
Affiliate
interactions between third parties shouldn't be left to destiny's choice, and this email addresses checker lets affiliate marketing companies reach their prospective users, generating the best traffic for your website
Outsourcing
trying to hire new specialists for in-house operations or enticing more interested parties to your professional services will be hassle-free thanks to the presented bulk email checker
How to install Email Verifier on MacOS
Intel or Apple M1
Take a look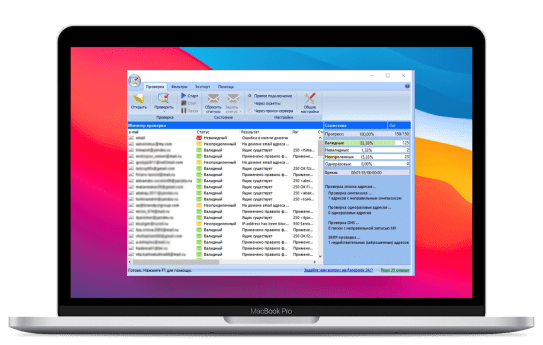 Why choose Atomic Email Verifier
Absolutely love it! Brilliant tool for marketers like me. Tried different other ones - lots of problems, bugs, incorrect harvesting, constant blockages by servers. Atomic Lead Extractor is well programmed and it gets what you really need. Definitely recommend it!

Wow its a great software. Work like magic! I love it.

I purchased both Hunter and Verifier yesterday. I am very pleased with both products. They are much better than similar products, for example Fast Email Extractor. Your programmer has obviously been working very hard to get the bugs out of the last few versions. If you google Winston Steward, you'll see that I'm an author of end-user computer books...

Make your mailing list completely deliverable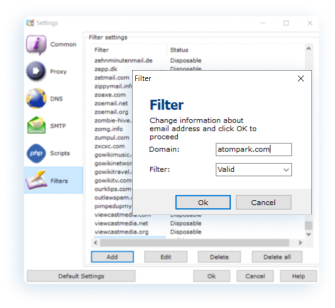 Flexible settings
Customize the program settings before starting email list cleaning. In addition to SMTP and proxy settings for a better and faster connection, you can specify different filter rules to apply while domains and email addresses are cheсked.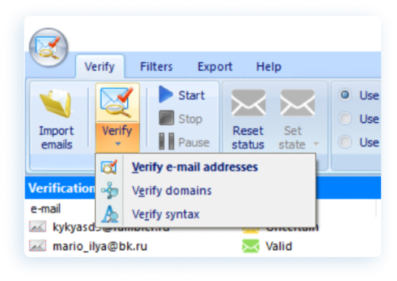 Filtering settings
Atomic Mail Verifier supports filter rules. This means that you can set up certain statuses for defined domains. The available statuses are "correct," "incorrect," "missed," and "unchecked".

If you assign a specific status to a certain domain, be aware that all email addresses belonging to this domain will have that specific status while undergoing verification.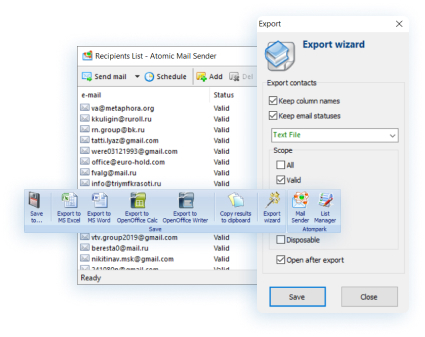 Export opportunities
Export Wizard makes it easy to export verified email addresses into a clipboard file, local file, or another Atomic product.

You can export email addresses with any statuses you need: valid only, incorrect, missed, unchecked, or all of them.

The generated list of email addresses contains email address statuses and column names.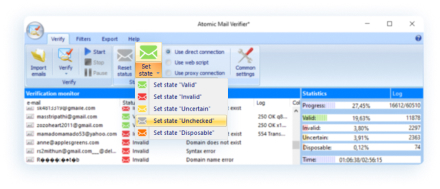 SMTP and proxy settings
Customize the program settings before starting email list cleaning. In addition to SMTP and proxy settings for a better and faster connection, you can specify different filter rules to apply while domains and email addresses are cheсked.
Get Quicker Results by Using the Best Email Validation Software
To improve the effectiveness of the verification process, organize a more effective way of confirming email addresses, and optimize your email processing tasks even more, utilize our bulk email verifier software and set up an email address verification process in five steps:
How to validate email addresses
In order to improve effectiveness of verification and organize effective email address confirmation and optimize your further email processing, apply our validator and set up a verification of email address in five steps:
upload the list of email addresses into the program
click the «Check» button
verify that these email addresses exist and can receive email messages
update & save them or
create a new database consisting of only valid emails
A double opt-in may also be a great way to validate email addresses. Atomic products provide a wide variety of mail verification options.
If your customers choose to sign up for your email list or newsletter, you could easily send them an email message to request them to validate their email address by responding to your message. Even though many people might not like this option because they might think it's too inconvenient for them; double opt-in is still one of the best ways to check if their email address really exists or valid.
However, the best mass email service solutions are a better way to optimize your interaction with customers, increase your overall opt-in rates, and get detailed responses without ever having to send extra messages, etc.
Popular features of Atompark's email checker tool
Unlimited email verifier no longer needs your assistance. It analyzes each email message and determines the authenticity of the email address (whether the mailbox exists, it is correct, and so on).
Validate a mailing address with our Email Verifier software before sending out your marketing campaigns will assure you that you are communicating with actual users. Clear your mailing lists of invalid contacts so it can easily become a good business solution.
Here is a list of what bulk email verifier tool can do for you:
Identify incorrect email formats
Provide an accurate status of every single email domain
Test an email address if it will bounce
Report whether the email address is active or not
Save valid email lists into the database
Verify millions of email addresses rapidly
Customize your campaigns by selecting standard /advanced validation
Apply a free trial to make sure that our software will do everything to provide you with a clean email database
Bulk email verification runs fast, is safe, and brings real results
Moreover, every Atomic email checker tool user can apply for a сell-phone carrier lookup option to scale the email listings and open up new campaign horizons. For more information, you can always contact an awesome technical support 24/7.
The email address validator from AtomPark is a complex and easy-to-use email processing solution that is designed for both professionals and beginners. It is supplied with the most popular features that make it nearly the most sought-after solution on the market.
Latest updates will make your work even easier
Atomic Email Verifier 10.11
2022-01-11
Get in touch with people you have verified!
Use Atomic Mail Sender, a simple desktop tool for sending bulk email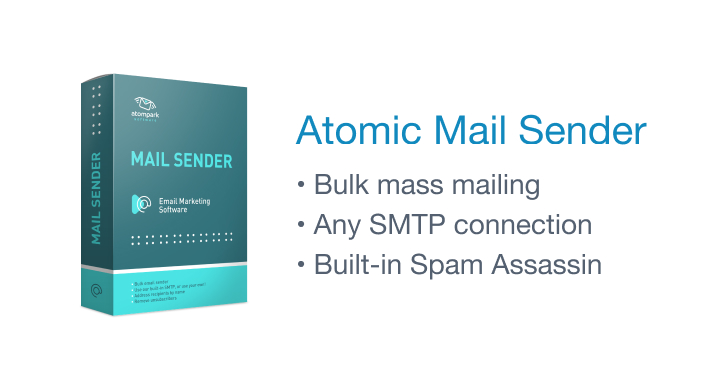 Try Atomic Mail Sender for free
connect any kind of no-abuse SMTP server to send unlimited email campaigns;
pass spam filters easily with the Spin text function and built-in spam checker;
upload the Unlimited Email Address List;
assures safe communication through the Internet through the use of SSL/TLS;
use a wide variety of email templates for different cases for free.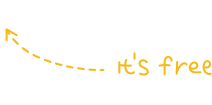 GET DEMO
Experiencing technical issues?
Contact our customer support to quickly resolve issues as well as experience excellent customer service.
In case you're wondering…
Reasons why you should use Atomic Bulk Emails Verifier
Verifying the existence of email addresses in your list is one of the most important tasks for an effective email marketing process. It will help you manage a more efficient marketing campaign and save you a lot of money by not having to use a bulk email service.

Email verifier will help you avoid sending campaigns to non-existent email addresses. So, if you have thousands of email addresses in your list, email verification tools will allow you to improve your email list deliverability the fastest way possible. Another good reason to use an email verification service is so you can be ensured that you will only get authentic leads.

The email validation tool verifies email addresses in three steps. Just get the list of emails. Check an email addresses with the tool. Get the result and use it for your needs. This will allow you to check the validity of addresses quickly and efficiently. The validation process is performed in multithread mode by using all the benefits of the Web.
Why is email verification very important?
Most websites have their own web forms which users and customers need to fill up. While filling up these webforms, users could enter wrong email addresses intentionally or accidentally. When these forms are electronically submitted, your email list can become flooded with inaccurate and undeliverable fake email addresses. If you send email messages to fake email addresses, the bounce back email ratio will increase. Because of this, it will negatively impact your mail server's reputation. Consequently, popular email services will blacklist your mail server's IP address due to its poor reputation. That's why identifying and removing invalid email addresses are essential before you start planning your marketing campaign.
By verifying email lists and checking delivery reports, you can improve many of your options such as:
Open Rates
Bounce Rates
Click-Through Rates
Conversion Rates
As you can see, email verification always results in a win-win situation.
Which emails should be verified?
Every email address and email list should always be verified. It's always better to verify your existing lists frequently as well as your new email lists. Some people verify only new lists, or emails which were generated from untrusted sources, which is good, of course, but does not eliminate the risk completely. Although some people verify only the new lists or email addresses which were originally generated from untrusted sources, it doesn't always eliminate the risk completely. You should always verify new email lists even those that were purchased or generated from highly trusted sources. You should always validate your existing email lists from time to time to make sure that they're active.
Email verification is an essential process if you want to build truly effective campaigns.
Add our platform to your website and implement it on your database right away. Experience all the advantages and disadvantages that it might have. Find out how many invalid email addresses we can identify and how many complainers we can flag using the email verification checker. Create reports and perform some statistical analysis to make sure that your marketing campaign is truly worth it! The best part is that the system is included in its simple integration cost. No extra payments or hidden fees!
Get the free trial now!
What does the Email Verifier check?
The Atomic Email Verifier checks the email by several criteria: by syntax, by domain, and by email address. Using Atomic Email Verifier you reduce to zero the chance to use invalid email addresses.
How do I check if an email address is valid?
If you already have emails you want to check, you just need to choose "Verify/Verify by email address" and put them into a line. Also you can check emails by syntax or domain.
Is the Email Verifier free?
You can get a 7-days free trial to discover all pros of Atomic Email Verifier. The price of registration key is 69.85$, and you pay it once. Also we have Atomic Email Verifier Online - the tool where you pay just for the number of emails you have verified. After registration, you will get 100 free credits to check Verifier Online for free.
Check out these other software tools from AtomPark