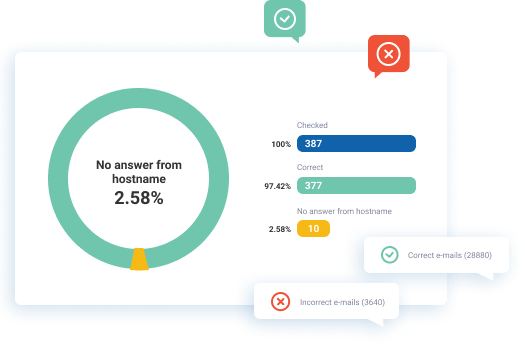 Atomic

Verifier Online

Online platform for verifying email contacts
Main Features of Online Email Verifier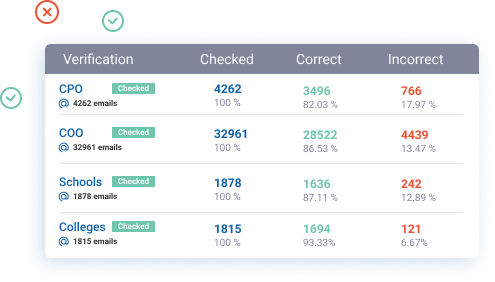 Two-step verification
You can check email contacts for validity in two steps: syntax and domain verification. Our online verifier service allows to confirm the validity of emails with a good degree of certainty.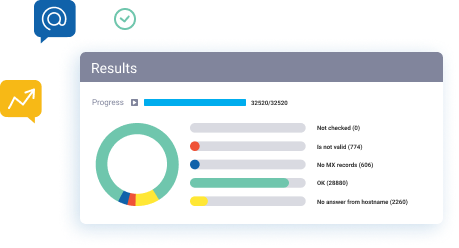 Detailed statistics
When the process of verification finishes, the software provides detailed statistics for the results. The program defines valid/invalid emails and emails that have problems, such as having no MX record, unknown hostname or no answer from the hostname.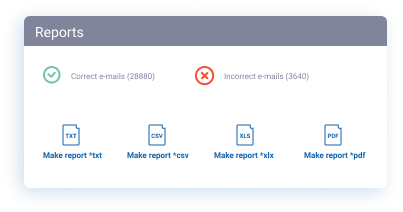 Reports
Reports are generated in *.txt, *.csv, *.xls, *.pdf, *.xlsx formats. Service allows you to store two types of addresses: valid and invalid. A user can select one type of address or save both valid and invalid contacts simultaneously. Service allows you to save the generated report locally on your computer.
How to Start working with Atomic Email Verifier Online
Create an Atomic Verifier Online account
Go to the «Create
New Task» menu
Enter a task name
and description
Click «Verify»
and get checked
email addresses
Verification of email addresses in the mailing list is now as simple as possible: just register for our service, add a task, and upload your mailing list. After you click the «Start» button, the process of checking email addresses begins, the duration of which depends on the size of the downloaded list. On average, it takes just a few minutes.
You can verify email online without the limits on the database size. Even if your database consists of hundreds of thousands of addresses it will be accepted by the service. There are no restrictions on the number of emails on the list you want to check. Even a milion of addresses can be checked by our online verifier as there are no limits on the size of the mailing list.
Online email address verification runs in multithread mode, which makes it possible to significantly speed up the verification process. The average speed check can range from 10 to 30 addresses per second or 1800 addresses per minute. So, for instance, checking 10000 of emails will take you only five and a half minutes. A huge database of 100 thousands of emails will be checked for approxiamately and hour. Look how it works in the
screenshots
.
And what is not less important, the high accuracy of verification is ensured by the three-step validation process. First, a service checks the syntax. If some emails does not meet the standard syntax it will be identified as invalid. Then, our online email verification service checks if the domains are right. If a domain doesn't exist then it is logically that the email address is not existant too. So, the emails with the wrong domains are marked as invalid. And finally, the service connects to the server and checks if an address is capable of receiving emails. This is the most accurate way to verify the address. Those addresses to which it is impossible to deliver emails are identified as invalid. So, all types of bad addresses can be found and only really valid ones will remain in your database after checking it with the help of our online validation service.
So, you will be able to check the lists of thousands of addresses before sending bulk message in
email blaster
.
You will receive ordered lists after the work done. Verify email online using this tool, and you will have the opportunity to save «good» and «bad» contacts in separate files.
Make your mailing list perfect
Why Atomic Verifier Online
Best online program ever! We used desktop solutions in the past but the online has no restrictions on where we can check our lists!

I used trial version. I checked with mixing few bad emails. The success rate is awesome. It's about 99%. Highly recommended

Best online program ever! We used desktop solutions in the past but the online has no restrictions on where we can check our lists!

Service tariffs
best
choise
Yearly
Get 2 free months
79.85 USD
Add to card
Try demo version and get
free 100 checks
Experiencing technical issues?
Contact our customer support for quick problem resolution and great customer service.
You might be wondering
Online Platform for Verifying Email Addresses
Before sending emails to lists you have not emailed for some time, you need to verify email addresses. Online email checking will decrease your bounce rate which will result in better delivery and inboxing rates.
Atomic Verifier Online is a service that can check your mailing lists quickly and efficiently by online email checking.
Pay attention to other programs from AtomPark