Did you know that there are approximately 4 billion daily email users in the world? If your target audience isn't available on other media, then the high chance is that you can access it through email. What's more, marketing experts estimate the ROI of email marketing at about $42 for every dollar spent. 
However, you'll only get the best out of your mass email sender if your message resonates with the expectations of the recipient. So, how do you do it? What are some of the best email templates for eCommerce that will help you get started? Keep reading to find out more in this elaborate guide. 
Types of eCommerce Emails You Need to Use
Running a successful online business requires reaching out to customers umpteen times to offer discounts, upsell products, or even thank them for supporting your brand. Here are some of the best eCommerce emails that you need to use: 
Welcome Emails and Example
Welcome emails can make the first or last message that potential customers hear from your brand. Moreover, the average welcome email can have a high open rate of up to 50%, making them more effective than the standard emails that you'll send to the customer later. At the same time, welcome email recipients are eager to hear from your brand because they took the initiative to share their contact with you. 
Now that you understand why welcome emails matter, what should you have in mind while drafting them? Here is what shouldn't miss when setting the precedent for future communications with customers:
A catchy subject line: The subject line should be attractive and concise to prompt the recipient to open your email once they set eyes on it. 
Gratitude: Begin by showing appreciation towards the user's gesture of buying your product or signing up for a trial service. 
A confirmation acknowledgment: Let the customer know that their first purchase or sign-up process is complete.
Additional information about products and services: Describe your organization in detail to build a natural segue for upselling the products and services in your offerings. 
Personalization: As you keep all the above factors in mind, don't forget to personalize the email, especially if you want the recipient to take action on CTAs. 
You can borrow inspiration from this welcome email example from the Ellesse sports apparel brand: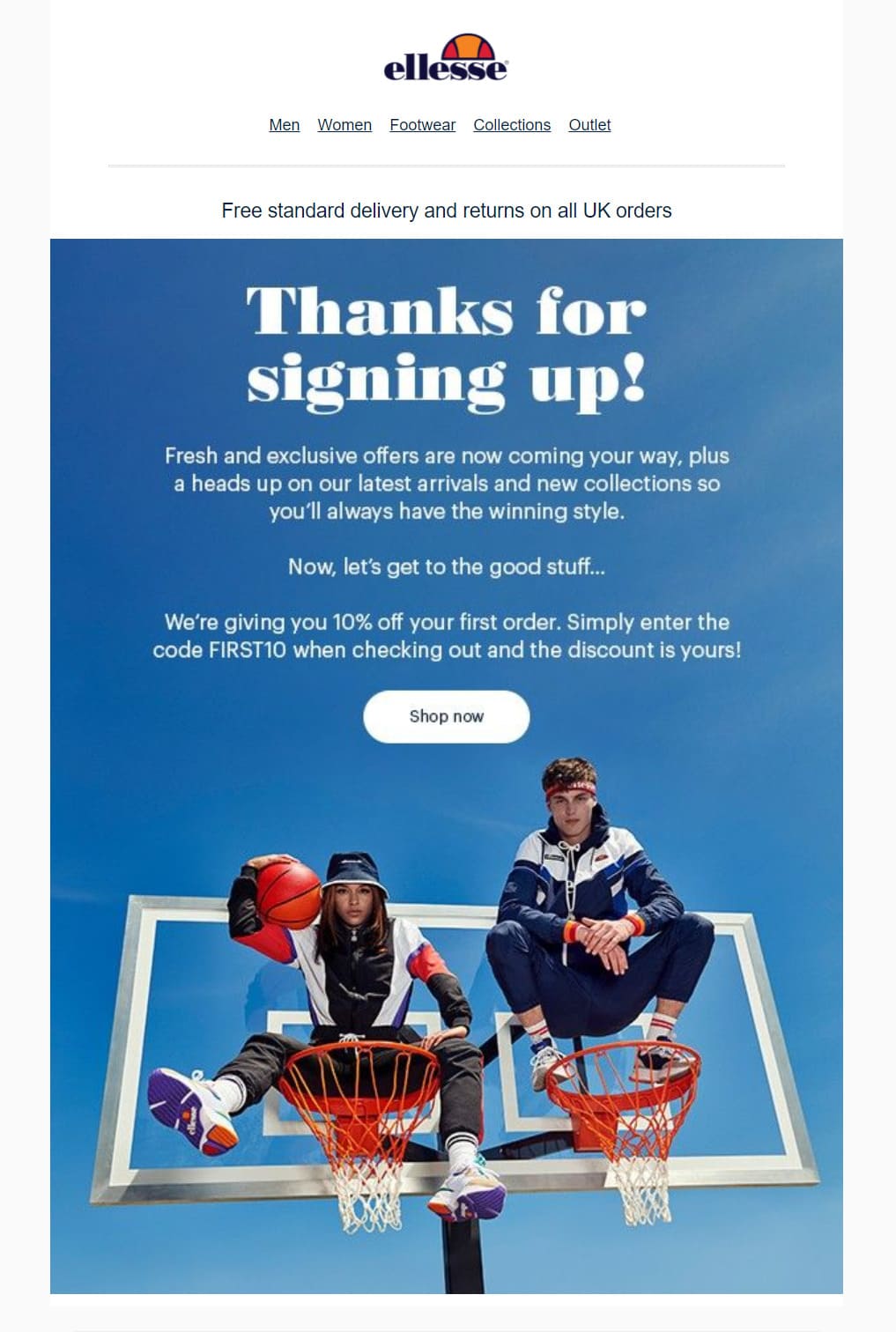 Promotional Emails and Examples
Running promotional campaigns through emails is a go-to option for many businesses because it is relatively affordable as opposed to other marketing strategies, such as paid ads or traditional displays. Also, promotional emails drafted on custom email eCommerce templates can help you build long-lasting relationships and trust with existing clients, as you acquire new ones. Tools such as the Atompark program allow users to add custom templates in HTML formats. 
You would want to write promotional emails to your customers when:
Announcing a discount or offer
Upselling limited-time offers
Promoting special occasion promos
Advertising VIP membership promos
Nurturing your existing email list 
However, you can only achieve the above marketing goals if you know how to write a customer-winning promotional email. Some factors to consider include: 
A simple email structure: Leverage a straightforward email format that makes you stand out and gives the recipient an easy time while reading. This includes a preheader text, a header, a salutation, and the main message. 
An informative subject line: Customers receive tens of promotional emails every day. Make your subject line unique and informative if they are going to read yours. 
An easy-to-execute CTA: What do you want the recipient to do after reading the offer or discount? Include a link that redirects them to where you want them to visit.
A tracking tool: It will help if you measure the results of your promotional emails to optimize the strategy as much as needed.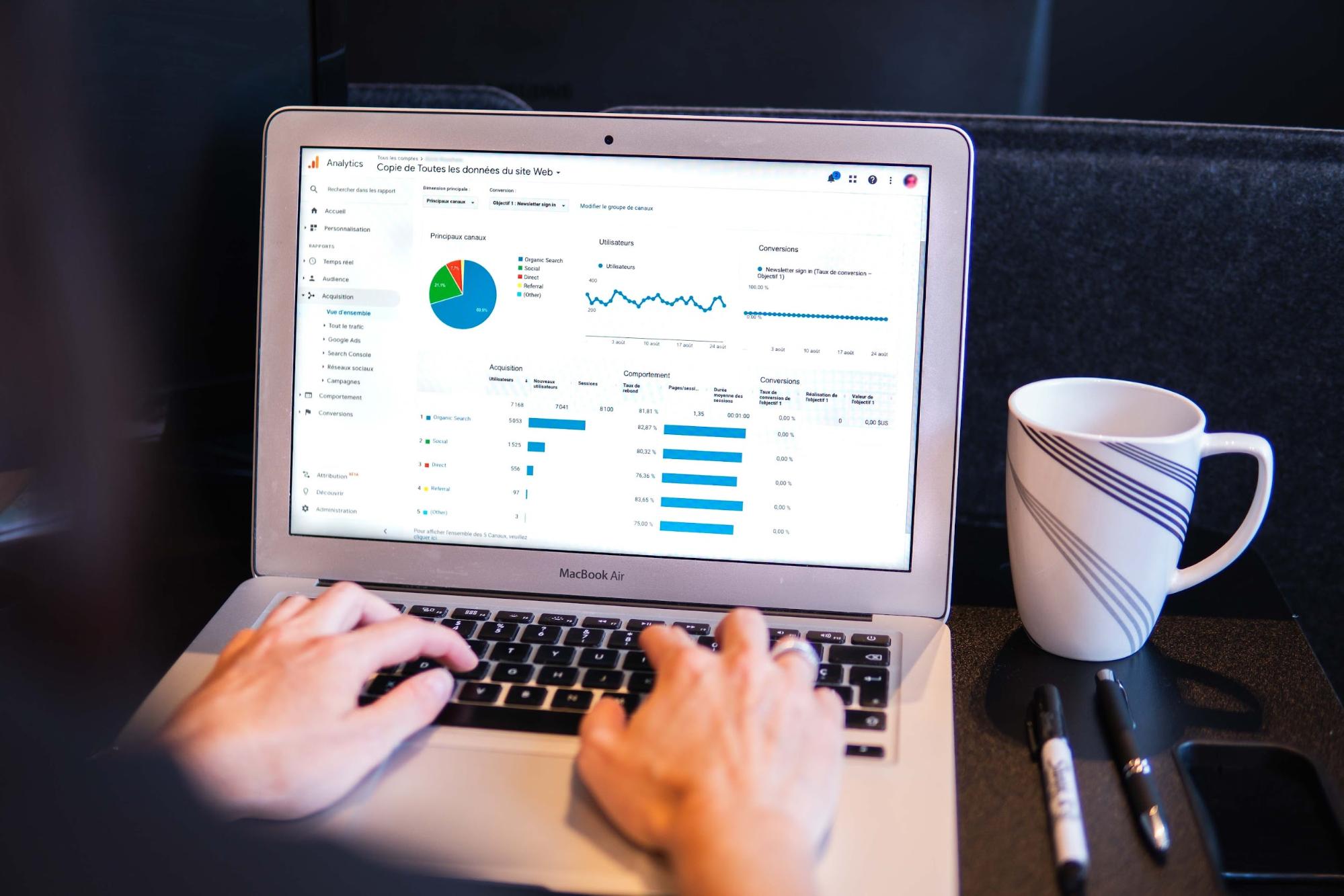 Here is an example of a clean and clear promotional email by Jetpack to draw inspiration from: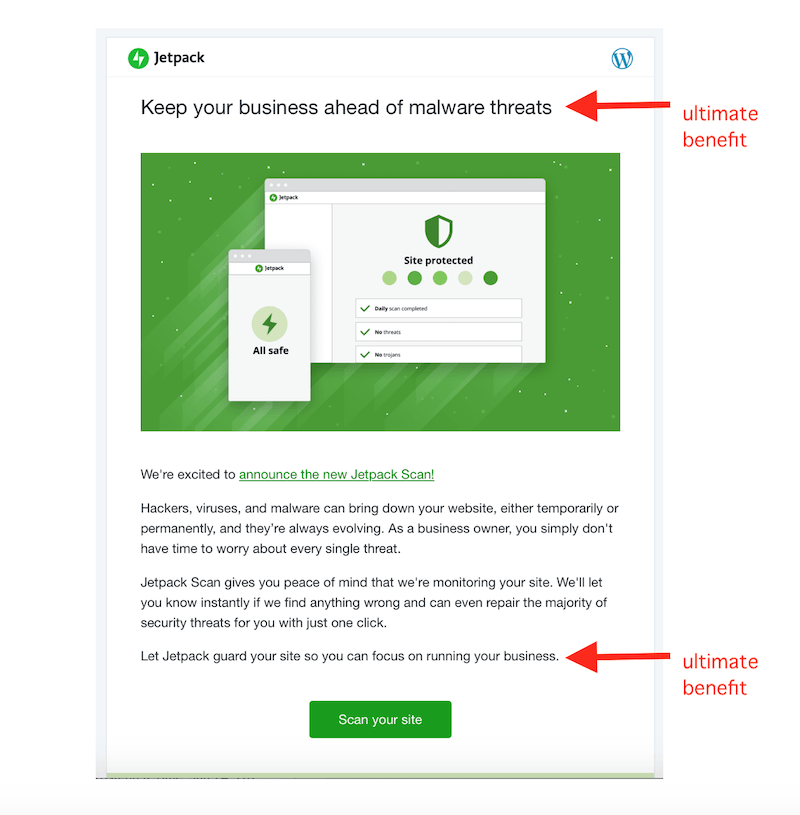 Cart Abandonment Emails and Examples
Do you often experience customers filling up their virtual carts with items, only to abandon the cart and the whole shopping experience altogether? Although some people look at it as typical buyer behavior, shopping cart abandonment can result in untenable revenue losses, amounting to up to $18 billion. 
From this statistic, you must send cart abandonment regulars, especially if you have an alarming rate of bouncing prospects. A recent report indicates that well-customized email eCommerce templates can help businesses regain up to 14% of lost sales. 
The prerequisites of a standard cart abandonment email include:
Attention-grabbing headline: Always approach customers with attention-grabbing headlines that implore them to take the action in your email message. 
Personalized text: Personalize cart abandonment emails using the customer's name in the introduction. Ideally, a user would take action if the message is customized for them. 
Urgency: Including a sense of urgency, such as a time limit for the discount will most likely prompt the customer to revisit the eCommerce site and complete their purchase. 
Proper Timing: An automated cart abandonment email should be sent within the first few hours when the customer is still engaged, or looking for other options.
Here is an example of how the Casper eCommerce brand encourages customers to reclaim their abandoned carts: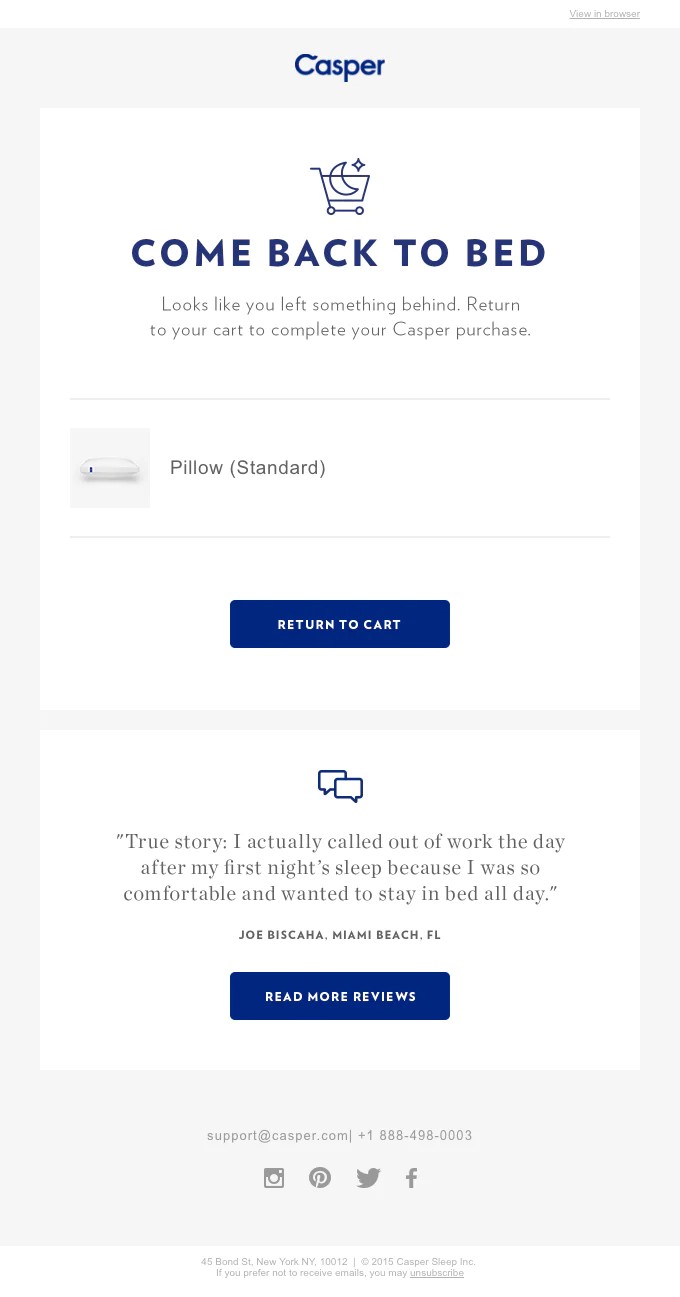 Order Confirmation Emails and Example
Order confirmation emails are critical in any eCommerce operation, as they help customers discern whether they are buying from a legitimate store. It also enables the buyer to confirm their payment details, as well as delivery address, given that they are most likely purchasing from your store for the first time. 
For established businesses, order confirmation emails help them offer a good buying experience by giving customers peace of mind, or optimizing their ongoing retention and customer loyalty plans. In fact, unlike regular eCommerce email examples, confirmation emails have a higher open rate of up to 85% when done the right way. 
Custom order confirmation email template for eCommerce can help your business:
Assure customers in terms of purchase and return policies
Hype customers about their new purchases, and eventually get good store reviews from them when they receive orders
Boost sales by upselling or cross-selling similar or related products—customers may even purchase complimentary products on offer immediately
Here are some of the factors that shouldn't miss in your order confirmation email:
Buyer contact details: This includes the buyer's name, email address, and phone number if they give one. This information assures them of real-time order status updates.
Order number: An order number that can help buyers and customer service track purchase history in case of issue resolutions.
Order Summary: This includes the product's detailed description, extending to name, image, color, size, quantity, or even unit price. 
Cost breakdown: A summary of the total charges that the buyer will incur to have the product shipped to them. 
Seller contact information: The buyer should know how to reach out to you in case of issues with the product. 
Here is one of the best eCommerce email examples on order confirmation from Blue Bottle Coffee: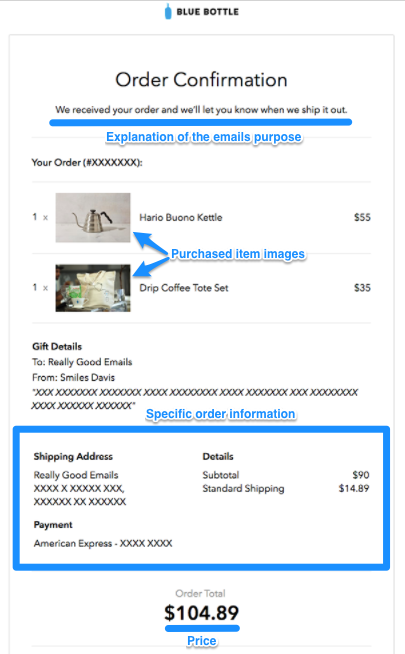 Shipping Emails and Examples
Marketers believe that shipping confirmation emails have the highest open rate because buyers will always view them. In fact, 64% of consumers consider shipping, alongside order confirmation emails as brand messages that are worth opening. 
Given the priority that customers put on this email, you would want to catch their attention from the word go and make them feel appreciated for making a repeat purchase at your store. It will help if you start with the shipping notification at the top, followed by a thank you message. This should be followed by order details, highlighting various attributes of the purchased item, such as:
Photos depicting the actual items 
Name
Quantity
Color to assure the customer that their preference has been considered 
Billing to show the amount of money the customer pays for individual products, ad the sum if multiple products are involved 
Payment information on how the amount was billed—for example, credit via credit card, debit card, or mobile wallet
Since a majority of shipping confirmation emails are automated, you should customize your eCommerce email marketing templates as much as possible to create a personal touch. The customer will still get a message that looks "robotic" but will not make an emotional connection with it. You want to leave an impression that implores them to pledge loyalty to your brand. AtomPark program allows you to copy your templates and add them to the tool in HTML format. 
You can also upsell or cross-sell other related products in the email, now that you have the customer's attention. This also includes promoting other initiatives, such as a customer loyalty program. Draw inspiration from this Chewy shipping confirmation email: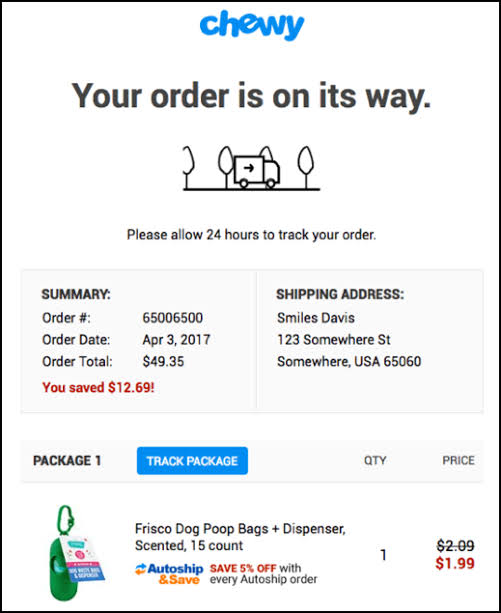 Optimize Your Email Strategy and Increase Deliverability with Atomic Software
Atomic Mail Sender is an all-in-one software tool that empowers businesses to find potential customers, communicate effectively with their subscribers, and increase the delivery of their email messages. The tool is protected from viruses and malware and is compatible with all devices running on Windows 7 to 11. It helps you send bulk emails to an unlimited number of recipients, directly into their inboxes. 
Other features packaged with the Atomic Mail Sender include:
Spin text: Use various features that come under spin text, such as social networking widgets and unsubscribe links to increase the chances of your email ending up in the recipient's inbox. 
Built-in spam checker: analyze your text using SpamAssassin and generate a score that will help deliverability into the inboxes of your target audience. 
Unsubscribe wizard: this feature helps you customize how you want to delete unwanted subscribers from your email list. 
Automatic delete bounces: the tool deletes email addresses that resend your message via the recipients' server after a failed delivery. 
As a multi-threaded based tool, our software sends emails at high speeds, even in slower internet connections, enabling you to get the discount message out quickly while offers still last. On top of that, the tool allows you to personalize your email templates for eCommerce for running targeted campaigns. All you need to do is copy your template's HTML and add it directly to the tool. 
Summary
Email marketing is the advertising strategy that will most likely take your business to the next level, especially when executed well. Leverage this guide together with its eCommerce email examples to get started. Also, simply download the Atomic Mail Sender to check out our free trial today. This way, you can experience how it enhances your email deliverability and seamless template integration in HTML format.