Merry Christmas email templates are a great way to congratulate your subscribers on the holidays and make them a wonderful holiday gift.
A promotional code or any other benefit is the best way to increase your ecommerce sales. Just make sure you use a top-notch email blaster to customize your letters through wonderful template colors, copies, and CTAs to match your brand and launch effective business Christmas emails out.
And if you need something a little more sophisticated, make sure you pick the tool that lets you add extra elements like a countdown timer, gifs, or other interactive elements to add urgency to your message, even if you're on a free plan.
Christmas Ad Email Template
A fabulous Christmas email design is a coupon or a Christmas gift. They will give your followers everything they need to interact with your brand and boost your holiday sales for good.
This Christmas letter template from Atompark is the perfect combination to share the Christmas spirit and provide the audience with a reason for having fun.
Add a festive copy through the user-friendly mailer, check out the contacts via email lists management, and let your images or gifs, or videos shine brighter than a diamond and be sent to the right audience. For example: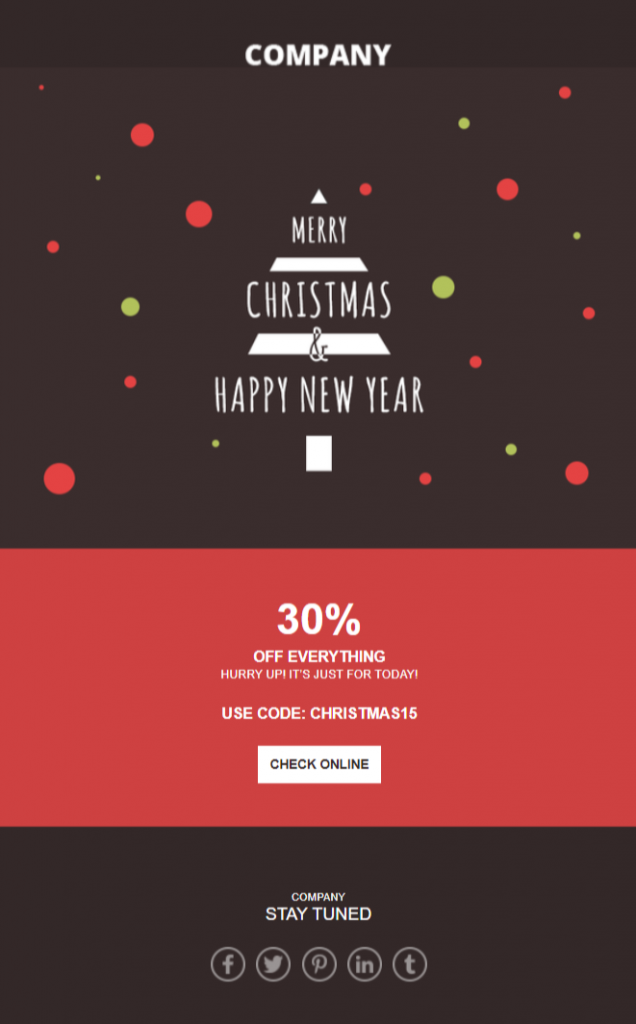 Also, don't forget to develop equally informative New Year-themed samples for increased open rates. You may get the most out of them by using our mailing software to the fullest.
Christmas Week Email Template
You may organize a free Christmas sales week and deliver the message via a Christmas email sample. This vibrant mail template may reinvent the famous 12 Days of Christmas with a Christmas discount. Using holiday-related colors like red is perfect to promote your sales and gain even more attention. Plus, using social buttons in Christmas email campaigns will allow you to integrate your email and social media marketing for better engagement during the holiday season.

A Stripo sample: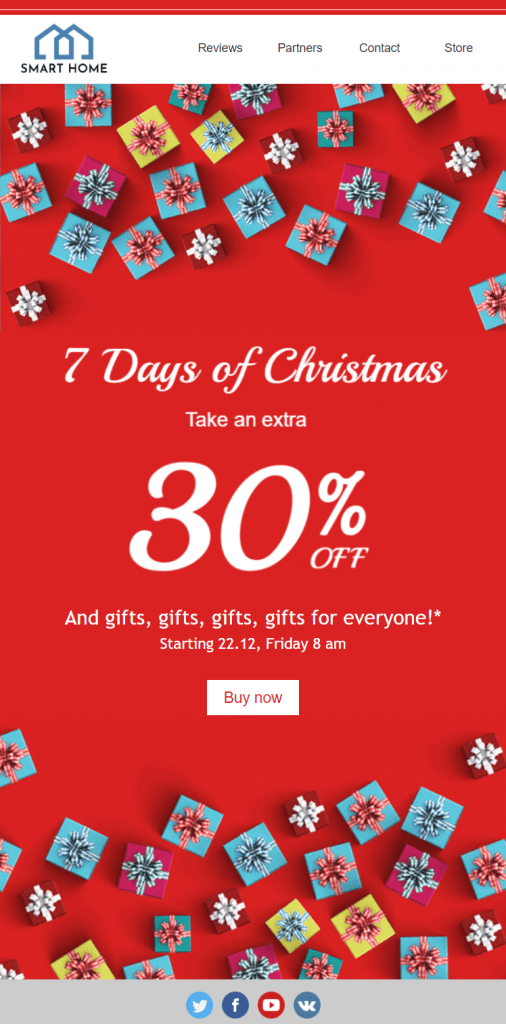 In the case you have a desire to edit this holiday template to increase your brand awareness, you may also edit the Stripo christmas emails templates using our software.
Santa is Here! Christmas Template
When the holiday season is in its heat, your competitors will create and submit their Christmas campaigns to convert your followers into theirs via awesome Christmas emails templates.
An attention-grabbing subject line and a better deal will do the trick, but did you know your visuals will also help your sales? Surpass your competition with an original mail solution.
Even when you're not making each Christmas email template all about the discount, creating a beautiful mail marketing campaign with high-quality images and fun GIFs is all you need to get your audience's attention. Have a look:
In this case, some animated mail template has just enough sweetness to show that the Christmas season is coming and reward subscribers with a surprise holiday present.
Christmas Wishes Email Template
Not quite every Christmas greeting email template you write has to be about sales. Instead of throwing them another discount or coupon, engage your loyal customers with a soulful video email campaign.
With beautiful visuals and a great mail, you may create the best Christmas email template to express your gratitude and appreciation: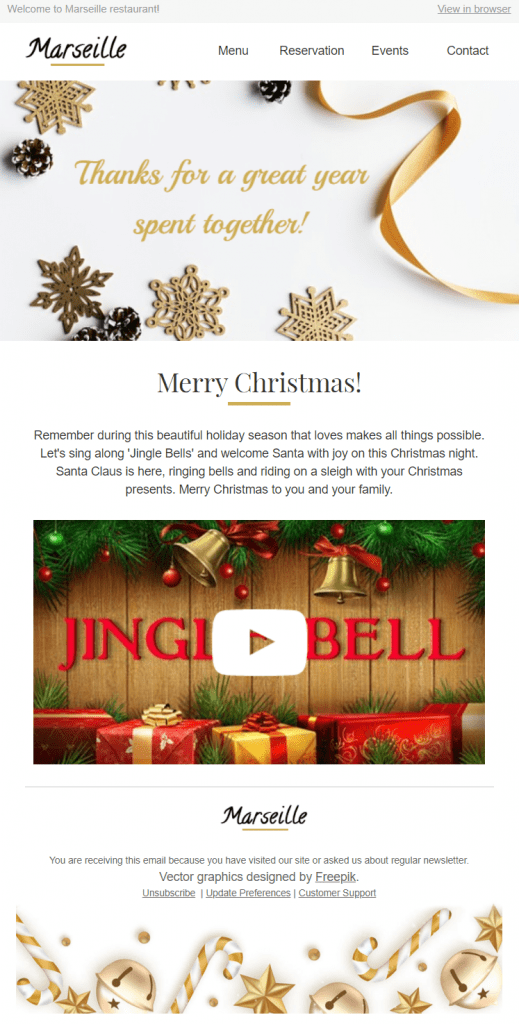 Gifs are just great but videos are a top-notch wish from the bottom of your heart. Of course, the use of video is also a must to promote the holiday mood. Such Christmas email templates for business design are so a beautiful way to give your subscribers a Xmas vibe and make them feel appreciated more than ever.
New Year Fashion Email Template
The application of the most vibrant colors and white space will also allow you to create a responsive holiday email template that's perfect for eCommerce marketers looking for something special for their mobile customers.
Templates for fashion by Stripo are good Christmas email ideas:

The warm classic template is perfect to display your proposals in a holiday style. A 25% discount at the top of the template is a great way to grab the attention of your followers. And take them to your store.
New Year Dishes Email Template
This is one of the best Christmas email marketing ideas you may use, especially if you have a retail business. Although this is a New Year's Eve template, you can easily customize it for Christmas. Why? Beautiful visuals and the use of white space allow you to show your holiday users their amazing discounts.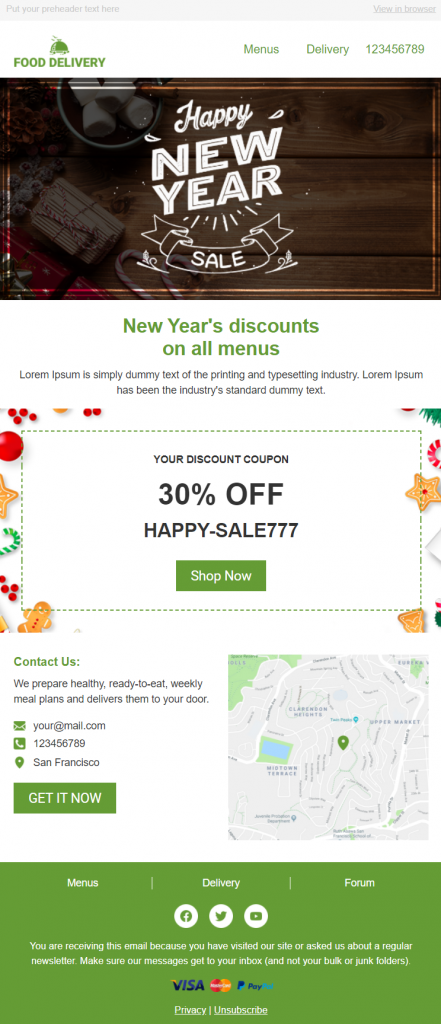 What's more, a great addition to promote your store sales and provide customers with information on where to find you may be a Contact Us section with the map and address. Of course, in order to create grocery blocks, you will need an ESP that supports them.
Balanced with a splash of festive colors and nice graphics, this letter template with food offers and festive dishes is perfect for the professional promotion of your restaurant or grocery.
New Year Super Sale Template
You may also apply this bright red Christmas template as one of the best Free Christmas Email Templates you may ever use to grab the reader's attention. The structure will also help you place your products at the center of the action and increase your click-through rates:

Provided by Moosend
Plus, this template will wow every subscriber by looking at the little holiday details like white and red snowflakes that make an email almost magical.
While creating flashy emails, mind that you need equally vivid calls to action so they don't overshadow them. Atompark software lets you choose any color for an eye-catching result. All you need is your color matching skills and a great Christmas email blast marketing idea.
To wrap it up
Until the X day, there may be a week or two on the calendar, or even a month! This doesn't stop you from creating a pre-holiday campaign to inspire your audience in advance. Be the first to connect with your followers with a gift campaign that gets their attention for your sale.
You're welcome to start mailing engines with the Best Email Template for Christmas Sale chosen from inspiring sources like ours because the holidays are coming!
Take these awesome samples or create some of your own, customize them with great images in email best practices, and share the festive mood with your audience to boost your sales and engagement beyond expectations.
If you'd like to use our sender to customize and send the beautiful mail templates we've seen above, feel free to create a free account and get started designing your happy Christmas email template right away. Good luck!
Template samples retrieved from:
https://moosend.com/blog/christmas-email-templates/
https://stripo.email/templates/