Have you been trying to work out the best way to increase your email leads and conversion this Halloween —but without breakthrough?
It's time to step away from the mundane and cook up some fresh, exciting portions of emailing strategies from the inspirations this season. There are many people around the world who love Halloween. They don't just like dressing up and going trick-or-treating, but they also love receiving Halloween-themed and 'spooktacular' fun emails about new products, discounts, and offers from their favorite brands. 
People's interest in Halloween creates a huge opportunity for marketers to generate revenue for their businesses by using creative Halloween sales email marketing strategies.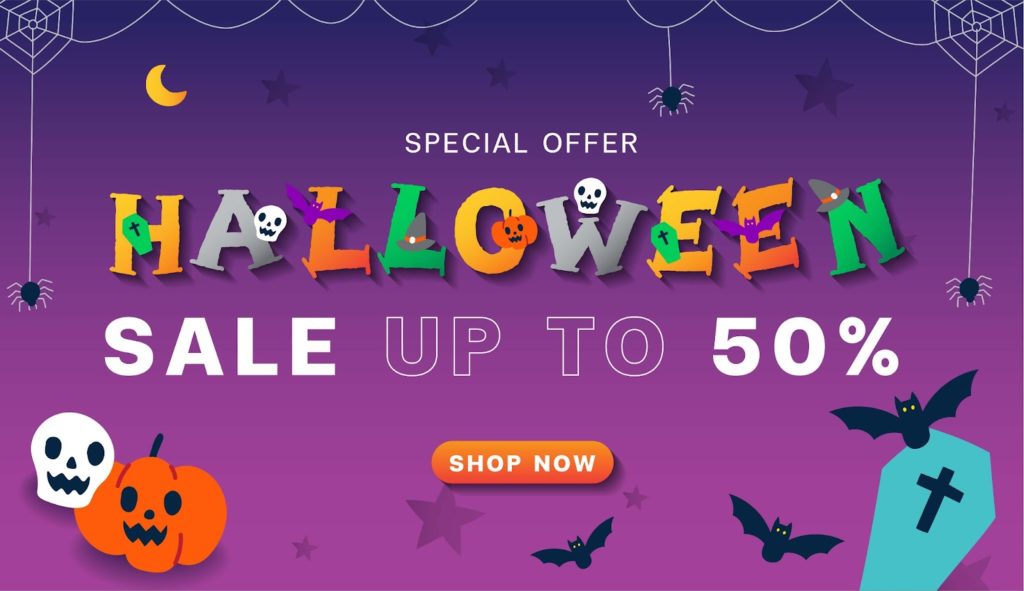 In this article, we'll go through some of the most effective Halloween-themed emails you can send this year to increase your open-and-click rates, boost your brand awareness, and get more visitors to your website and customers into your shop.
Why Is Halloween Email Marketing Important?
Halloween is one of the biggest holidays for costume shopping, parties, and candy. With so many people trying on costumes and getting ready for the festivities, you want to make sure you get in front of your target audience during this time. 
A happy Halloween email is a fun, creative way to give your customers and prospects a good laugh while also getting in on all the excitement of the holiday. Halloween emails also offer you an opportunity to target holiday shoppers who want to buy spooktacular-themed goods and services and boost your seasonal sales.
In addition to being one of the most popular holidays, Halloween is also one of the most anticipated events for kids and has a special place in people's hearts. This means they're much more likely to open an email from someone or a brand they know.
According to data from the National Retail Federation, a staggering $8 billion was spent on Halloween in 2020 by consumers and this number is expected to continue to rise.
A good Halloween email marketing campaign will be designed to "lure" your customers into buying. You'll want to create a template that is fun, creepy, and suspenseful. 
How To Build A Good Email Marketing Strategy For Halloween
Get ready to send out the spookiest holiday newsletters of the year!
Halloween is a great time to celebrate the holiday season and attract new customers and boost sales.
So, if you're planning on sending out this year's Halloween marketing emails, here are 10 Halloween newsletter ideas to help you build your strategy:
Plan Your Halloween Email Campaigns
Halloween is an ideal season to engage your customers and drive sales. You can use email marketing to encourage consumers to shop during this spooky season, offering discounts, free shipping, or other incentives to encourage them to buy from you.
But before you can start writing your Halloween marketing newsletters, you need to know what type of content will work best for your business and what your target audience prefers. 
Decide which type of content you want to share — be it a blog post or video — and then think about how many times per day (and where) people typically visit your website. 
For example, if 80 percent of your daily traffic comes from mobile devices and 80 percent of that traffic comes from social media channels, then plan your marketing campaigns accordingly.
Don't forget to create a spreadsheet with details on each stage of the process and use an email verification tool to filter your contact list. 
This will help you simplify the process of creating content, scheduling emails, and analyzing results with an email tracker (to see which emails worked best). The more planning you do now, the less work it will be later on!
Choose A Halloween Email Design
A well-designed email can help convert more customers from your email list into buyers and drive traffic back to your website. It also helps boost engagement by making the recipient feel special and able to enjoy the senders' brand. 
You want to make sure that your email looks as good as possible on mobile and desktop devices, so choose a design that works for all screen sizes and resolutions. If you have a logo or brand image that is easily recognizable, use that instead of another image.
Otherwise, you should use an image of your product or service being used in an environment that relates directly to the holiday themes and images — such as using pumpkins in place of flowers, a haunted house instead of a home, and skeletons instead of people (as an example).
Create Halloween Email Subject Lines
The subject line, as well as the content of the mail, must be something that relates to Halloween and appeals to your customers. They should be short, memorable, and enticing so they grab attention when they appear in your target readers' inboxes! 
To create effective subject lines, think about how you would describe a product or service as well as its benefits so that it becomes clear why people need it now (and why they'll want it at any other point in the future). 
Offer Halloween Discounts
If you want people to open up your scary emails for Halloween, then be sure that you include some kind of discount offer in each email sent out! This will encourage them to open up their emails and check out what kind of deals you have available for them during this popular holiday season! 
You may also want to think about including a special discount code with each email sent out as well on your products and services that are particularly popular in the Halloween season. This is an excellent way to draw more attention to your company and attract new customers.
Target Specific Customer Segments
Email marketing is not just about reaching out to everyone who might open an email or click on your link — it's about sending emails that are relevant to specific personas, based on their needs and behavior patterns. 
Target existing customers by segmenting them by behavior and interests, such as age or gender. This will help you create personalized emails that appeal to your target audience and increase engagement with them. The more specific you can be with your targeting, the better your results will be. 
For example, if you sell children's toys, consider using emails targeted at parents who have children aged 2-10 or older. If you sell products for men, consider sending an email focused on men who live in urban areas and have disposable income. 
And if you want to send out an email about a new product launch, it may be better to target people who have recently purchased from your store or signed up for your newsletter.
Plan A Grand Halloween Sale
To build a successful grand sale campaign around Halloween, consider creating offers that reward loyal customers by offering them discounts, special access to products and services, or other perks. 
It's important to note that any discount should be applied to purchases made in the next 30 days or less. You can also offer a free shipping promotion so that your customers can get their orders while they're still shopping.
You can use this strategy to build brand loyalty as well as increase sales volume by pushing out promotional emails at this time of year.
Reward Customer Loyalty
Offer multiple incentives for customers who purchase from your business regularly (such as a free gift or discount). You may also want to consider offering special deals for first-time buyers or those who have never bought from you before — these types of offers will help build customer loyalty and encourage them to return over time if they enjoy shopping with you.
You may also want to reward customers who refer new customers to your business. You can offer something in exchange for someone referring someone else to shop at your stores, such as a discount on the next purchase or a free product sample. One way to make this process fun is by offering a prize during the referral process, such as a small gift card or coupon code for use in their online store.
Also, think about rewarding loyal customers with loyalty rewards programs that give them discounts on future purchases and other perks based on how long they've been shopping with you (or how many times they've visited). This type of program also helps your business maintain customer information so you can better target marketing efforts toward specific demographics.
Integrate Social And Email Marketing
Email marketing and social media are two of the best ways to reach customers, but they can also work together to create a more effective strategy.
The integration of these two channels allows you to reach new audiences and engage with them in a way that would have been impossible without them. This is especially true when it comes to Halloween campaigns, which often have a high propensity for brand awareness.
Use Email Marketing Automation
Email marketing automation is one of the most powerful tools for improving your email marketing efforts. It allows you to automate certain tasks so you can spend more time on other things.
For example, you can find email from website and offline sources. Next, you create a bulk contact list and series of newsletters before the big day and send them out at different times during the week, using a mass email sender by AtomPark Software, for example, to drive traffic to your website or blog posts. 
You can also use automation to create a series of emails that are triggered when certain events occur (e.g., when someone places an order).
Leverage User-Generated Content
User-generated content (UGC) is one of the most effective methods for driving traffic to your website or blog and increasing engagement with your audience. 
UGC is also known as crowd-sourced content or crowdsourcing and it's all about getting real people (i.e., people who have shared their personal experiences or expertise) to share their insights with you in the form of videos, photos, GIFs, memes, and text posts on social media platforms like Facebook, Twitter, and Instagram, etc.
You can use UGC as an opportunity to interact with customers and turn them into brand advocates who will share your Halloween messaging with their friends and family members.
Creative Halloween Email Design Examples
Halloween is coming.
That's right, the holiday that brings out the monsters and ghouls in all of us is finally here! And with it comes a celebration of life, love, and creativity.
If you're looking to get in on this spooky action, we have some great Halloween email design examples that are perfect for your marketing campaigns this time of the year and will get people excited about your brand.
Check out these creative examples below:
A store's trick-or-treat mystery sales surprise package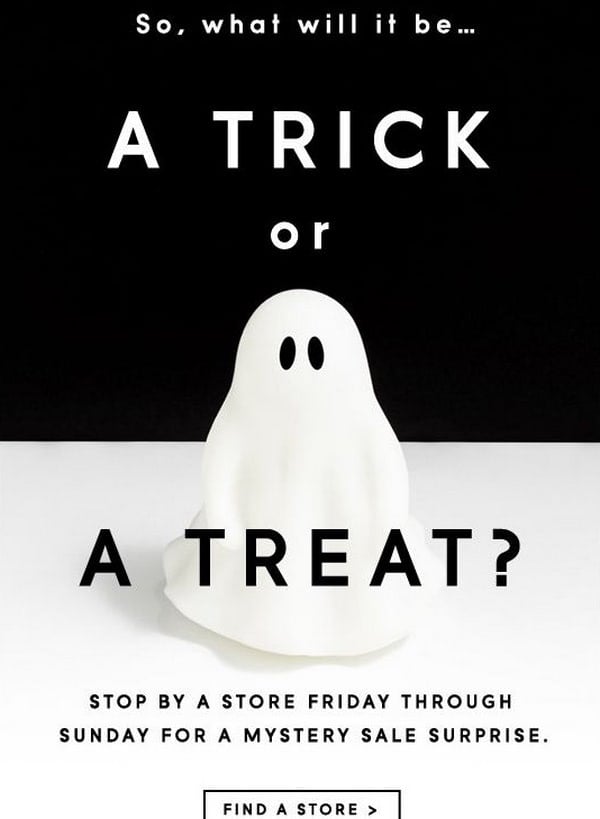 It's a spooktacular suspenseful wait for this store's customers and prospects Friday through Sunday as they anticipate a mystery surprise when they click to 'find a store' and shop for their favorite items. 
The Halloween email uses a perfectly fitting black and white monochrome background with a friendly-looking baby ghost image, and of course, the famous trick-or-treat term to announce its mystery holiday offer to its would-be shoppers. Fiendishly creative!
A delightfully spooky array of jack-o-lantern discounts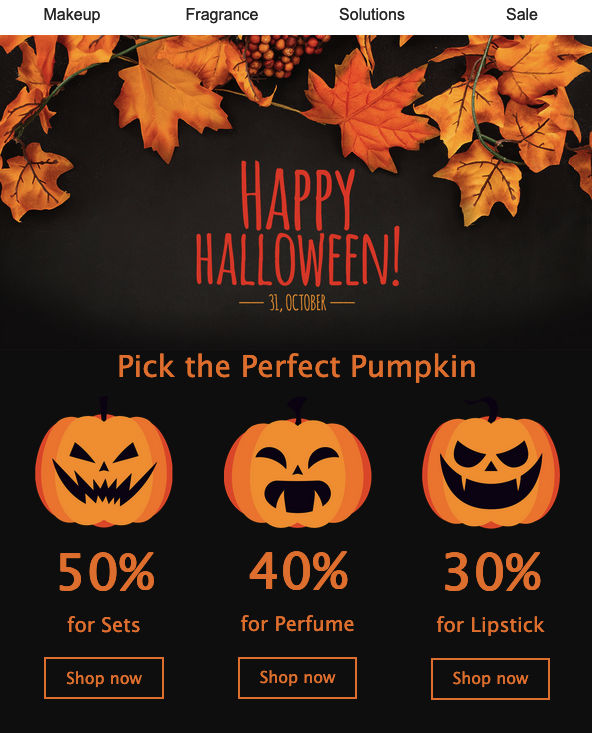 This store sure knows how to get its customers in the holiday mood and shop their favorite items at an offer they can't resist. 
The combination of fallen leaves, ghoulish pumpkins, and a choice of Halloween-themed fonts, terms, and background is the perfect customer nudge to act.
Creepily arresting holiday offers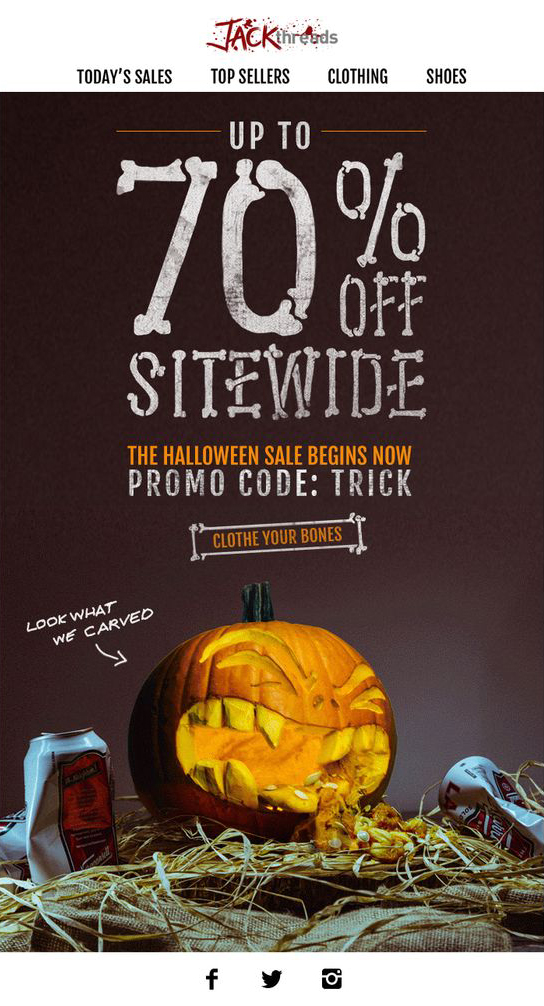 In The hauntingly beautiful skeletal fonts in the announcement of a massive 70 percent discount to customers with the promo code, 'TRICK' in this Halloween email concept is sure to get your attention.
But this fashion store goes further with its Halloween email marketing concept. Its use of 'CLOTHE YOUR BONES' as a call-to-action, along with a super scary jack-o-lantern image, is totally creepy. 
Have Fun With Halloween Puns And Humor
These days, online users love it when companies use humor as part of their marketing strategy. By incorporating puns or jokes into your email marketing campaign this Halloween, you'll find that people will be more likely to open and read your emails. 
You don't have to write complicated jokes; simple ones work just as well! For example, if you sell children's clothing, try using phrases like 
"This would look adorable on your little pumpkin!"
"Make sure your kids are ready for trick-or-treating with this cute costume!"
 "We have for you a little treat to die for!"
CRO Tactics To Increase Halloween Campaign Conversions
Treat your customers to a marketing campaign that's fun, effective, and profitable. Use these tips to increase conversions with your Halloween email campaigns.
Create a personal touch: Use relevant content that connects with the recipient's interests and personal interests. For example, if you're sending out a Halloween-themed message, include a link to a Halloween video or other content that relates to the recipient's interests or hobbies.
Make sure your newsletter has an image: Nothing says "spooktacular" like an image! Images give your message more personality, which makes it more fun to open and read. They also allow people to see what they're going to get before they click through, which helps them decide if this is something they want in their inbox (and if so, how).
Include links: Most people want to share information online, so make sure you include clickable links within your emails so recipients can visit your website or social media pages for more information about what you have to offer.
Use a theme like "The Nightmare Before Christmas" or "Halloween Spooky Stories" for your subject line.
Tell your customers about where they can find out more about upcoming events or products that relate to Halloween, such as costumes, decorations, candy, and trick-or-treating!
Make sure there's an offer at the end of your message so that people who open it will be interested in what you have to offer them next time around!
Use a CTA button: A CTA button makes people want to convert right away. It's often the first thing they see, and it gets them excited about clicking or opening the email in their inbox. A CTA button also increases engagement because it shows that you care about them clicking through and reading what you have to say.
Summary
There you have it, 10 easy steps to help you build your own effective Halloween newsletter strategy. If you play your cards right, your campaign will stand out from the crowd of spooky emails received this Halloween. 
With this approach, we hope that you'll have a better shot at delighting more recipients, increasing click-throughs and conversion rates, and — perhaps most importantly — boosting your bottom line. Happy Halloween! And happy email marketing!