E-mails are a gold mine of actionable marketing data for business owners. Unfortunately, getting a targeted mailing list can be rather difficult. That's when an email extractor comes in handy. 
With the right extractor tool, you can automatically get the information you need out of your e-mail inbox and save hours of manual data gathering time.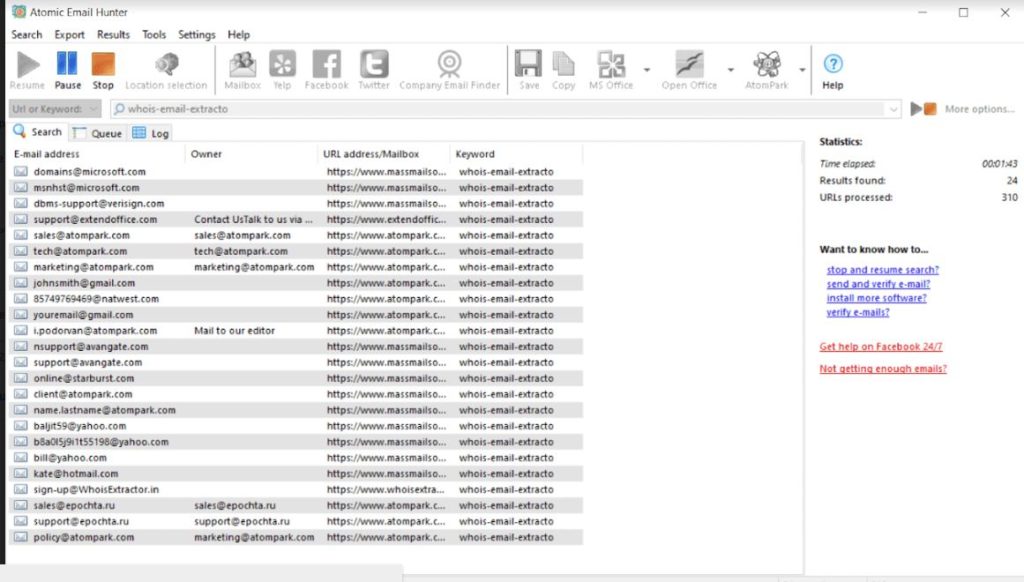 In this article, we will cover what is email extractor, and how you can use it to reach the people that matter to your business.
What Is An Email Address Extractor?
If you are new to e-mail marketing, chances are you have heard about email address extraction before but don't know what it is. 
It is software designed to help you extract e-mail addresses from a variety of online sources. This can be useful if you're trying to build a list of potential customers or simply want to expand your messaging list. 
There are a number of different email extraction tools available, each with its own set of features and capabilities. However, most of these tools are quite easy to use. There is little or no learning curve if you are a first-time user thinking about how to use email extractor.
A web email extractor can pull e-mail addresses from online content on social media platforms and websites. Others are designed to extract e-mail addresses from offline content, such as PDF files or document scans.
A good email extraction software can extract e-mails from multiple sources, including PST files, EML files, PDFs, CSVs, and other formats. The software can also extract e-mail addresses directly from websites, Outlook, Office 365, and other messaging clients.
What Does An Email Extractor Do?
Email address extractor is one of the most useful and easy-to-use software available for online marketers. 
Similar to e-mail harvesters, this software is designed to scour the internet and collect e-mail addresses from websites, forums, and other online sources. 
These programs work like regular web crawlers. They automatically scan web pages, looking for any text that looks like an e-mail address. Once the software has collected a list of e-mail addresses, it can then save them to a file or database for later use.
If you have e-mail addresses in files stored in one or more locations on your computer, a good extractor can also locate them all, extract them, and place everything in a file where you can easily access them. 
These tools are well-known for their ease of use and speed. You can quickly and easily retrieve hundreds of e-mail addresses in minutes.
Email extraction software can be used for a variety of purposes, both good and bad. For example, companies may use email harvesters to build up their customer messaging list, while spammers may use them to collect e-mail addresses to send unsolicited messages.
What Is Email Extractor Software Used For?
Essentially, an email extractor is a tool that can be used to build up a database of e-mail addresses. This can be useful for lead generation purposes, such as sending out mass marketing messages or conducting market research. 
The extracted e-mails can be used to create customer profiles using information such as their names, addresses, phone numbers, and so on. An email extractor can also automatically organize all incoming marketing e-mails.
With the extractor tool, you can easily find what you need without spending hours manually searching through your inbox or offline files.
The best email extractor tools will also include a program that checks e-mails for validity and removes duplicate addresses.
If you have a need for a large database of addresses, then an email extractor can be a helpful tool to have.
How To Use Email Contacts Extractor To Improve Your Business
E-mail marketing is the most cost-effective way of reaching your target market and has the potential to increase the conversion rate of your website. But how do you get a highly-targeted list of e-mail addresses of your target market? By using an email extractor tool.
An email extractor is a valuable tool for any business. It can help you collect leads, track customers, and even find new sales opportunities. You can extract e-mail addresses of your target market, and even get all the necessary contact information like phone number, address, and so on.
You can use these e-mail addresses to send out personalized messages to your target market, increase the chances of your website landing on the top of the search engine results pages, and get more leads for your business.
So, if you are looking for a way to improve your business and get more leads, then you should consider getting an email extractor.
How Much Does An Email Extractor Cost?
Now that we have answered the question "how do email extractors work?" Let's talk about the cost. 
You can find e-mail extraction programs all over the internet, and they come in a variety of price points. 
Some extractors are very basic and only extract addresses from a given URL. These can be found for as little as $10. However, if you need more features, such as the ability to extract addresses from multiple URLs or from a list of keywords, compatibility with 3rd party integrations, and access to updates and support, you'll likely have to pay more. 
Ultimately, the price you pay for an email extractor will depend on your needs. For example, our tools at Atompark Software are priced differently. The price for an online content extraction tool is different from that for extracting e-mails from offline files.
Atompark Email Extractor for Online Content
This tool sells for $89.9 and provides you with a way to extract e-mail addresses from websites, blogs, and other online sources without any coding knowledge required. It also allows you to do bulk e-mail address extraction from an unlimited number of websites or blogs in one go.
Atompark Email Extractor for Offline Content
This logger tool sells for $39.85 and is compatible with both Windows and Mac operating systems.
Our files email extractor allows users to scan documents in various file formats and extract the e-mail addresses from them. You can then save the extracted address information as a text file or export the information into Excel or another spreadsheet application.
Conclusion
Email extractors are a great way to get a list of e-mail addresses from a website. These handy tools can help save you hours or even days of work when it comes to harvesting and bulk exporting e-mail addresses. 
If you are a business owner, website owner, or do any form of marketing, then it is important that you learn how to use the email extractor. Whether you use it for prospecting purposes or to streamline your existing processes, e-mail extraction has the potential to make your business more efficient. 
Now that you know how email extractors work, get started by test-running our software to see what it can do. There are a lot of extraction tools available out there and they all promise to work the same way. However, they are not all created equal. You need a tool that produces results quickly and efficiently.
Download a free trial version today.