Do you pay attention to the design of the promotional emails you receive?
If you are interested in marketing, your answer is definitely yes! Besides, you try to make your messages catching. After all, the visual part of the letter is no less important than the text! To do your email marketing better try to use mass email marketing software.
We wrote this article to inspire you with examples of well-designed mail footers from top marketers and successful businesses.
Before we start looking at the email footer examples and choose an emailing software, let's figure out together what an email footer is.
What Is an Email Footer
The footer is the signature of the newsletter. It is located at the end of your message, and it usually contains your signature and contact details. You can also specify other important information there.
However, as we delve deeper into current marketing trends, we see that there are many ways to influence your subscribers with your email footer signature design.
What should be included in professional email footers?
Most businesses and private entrepreneurs include the following information:
contact information, including your postal address;
your logo;
call to action;
a link to your website or an active button, by clicking on which, the user will make the targeted action;
Social Media Accounts Links: add buttons that direct your subscribers to your social media accounts like Facebook, Instagram, and YouTube;
support team contacts;
link to unsubscribe;
other necessary information in accordance with applicable laws.
Of course, it is very important to maintain balance in email footer sizes. Include only the information you really need in the footer. Do not overload it with an abundance of links and self-promotion.
Well, let`s figure out together how to make a footer for mass mailing campaigns! Using email address tracker you can track the email delivery and answers, and with mass email extractor hunt for the new emails through the web.
How to create an email footer
By deciding what information to include in your email footer, you can design the most beautiful footer that contains all the information that your audience needs.
3 parts of good professional footers:
it inspires confidence;
it looks attractive visually;
it contains important information.
You also need to decide on the goals of the mailing. The number of recipients depends on it. And if this is a bulk mailing, then use an email sending program for your convenience. So you will be able to use unlimited emailing.
Now let's take a look how to create good footers and what is the difference between a business email footer and a custom email footer.
Here are some examples of email footer best practices.
Simple text signature
They contain only the most basic information. Such as the name of the sender and the name of his company. They are primitively decorated.

HTML signature
HTML signatures are not familiar to simple text signatures, because they allow for expanded creativity. Users can customize their email footers with varying images, colors, shapes, and links.

Animated email footer
The name speaks for itself. You need to add an animation element. This grabs the user's attention. But be careful not to distract from the main message of your email!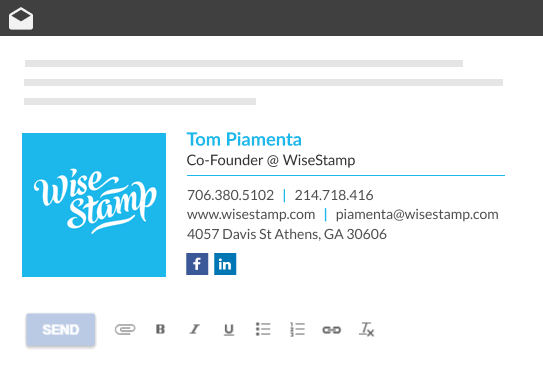 Corporate email footer
This is a kind of business card. This signature contains all information about the sender. It is good and appropriate to use if the sender is an official representative of a business or a company.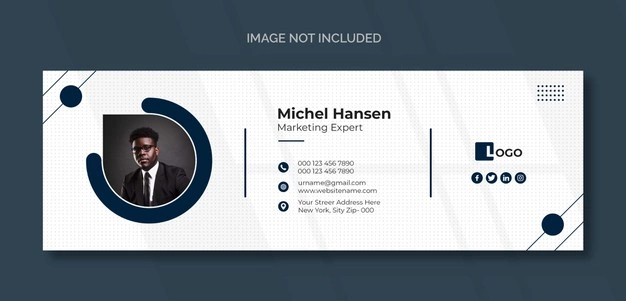 What is an environmental email footer, and why do you need to use it?
What is an environmental email footer? It is a section added to the bottom of your email, usually as part of your email signature. It is usually a few short lines of green color text that ask the recipient to conserve paper and avoid printing out the email or documents all together.

Email security message footer
It means that email and/or any files transmitted with it are confidential and intended solely for the use of the individual or entity to whom they are addressed. If you have received this email in error, please notify the system manager. This message contains confidential information and is intended only for the individual named.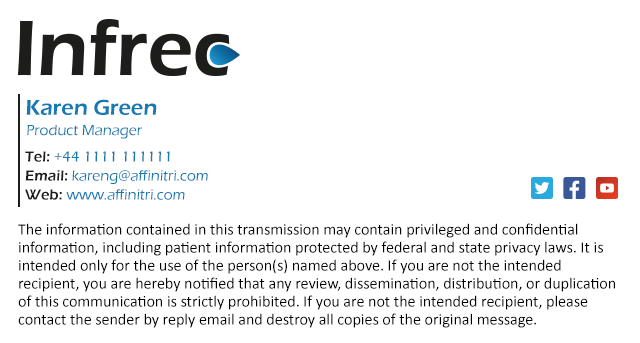 Legal requirements about footer letter template
Here's what information must legally be on all company letterheads according to The Companies Act:
Your business's or company's name;
Where your business is registered;
Your registered company number;
The address of your registered office.
So now you know what perfect email footers look like.
Here we have 10 well-designed email footers for your inspiration.
1. Dr. Martens is a well-known shoe brand.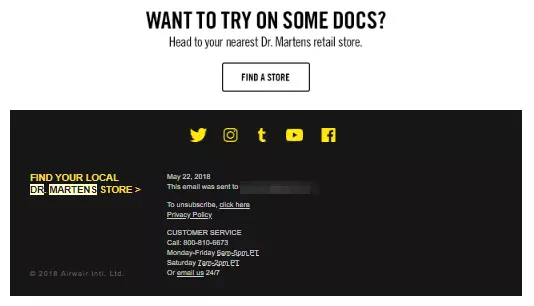 Their email footer is very well-organized. You are able to see the store locations, social media, and customer service.
They make it easy for followers to find the information they need. Then, under that Dr. Martens includes additional information about working hours and a link for unsubscribing.
2. Nike running club is a regular workout made to inspire runners around the world.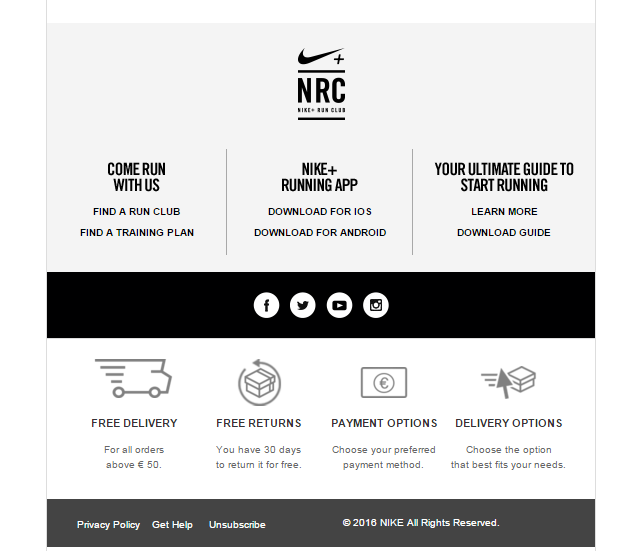 In their email footer from Nike running club uses blocks to draw attention to run clubs locations, running app and a guide for amateur runners.
We can easily order some sportswear online and join a running club in our area.
Also we are able to read a Privacy Policy and unsubscribe easily.
3. Amily's books is a little online bookstore.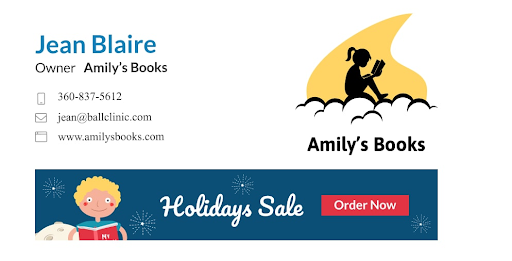 It's owner created a simple, but cute email footer. She sends emails to the customers and they can see contact information, visit the website and call her if they have any questions about their orders. It looks nice and attractive because of using logo and a beautiful illustration.
4. Customer Thermometer enables customers to provide feedback in a quick and easy way by rating services through a traffic light system.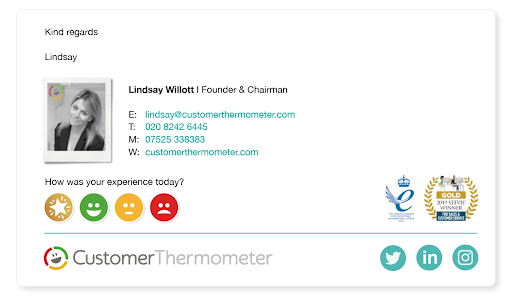 That's why an email footer of their founder looks so stylish! Here we have all contact information, such as email, phone number, mobile number and website link.
By the way to collect phone numbers we have a special software mobile phone number harvester. And if you wandering how to extract email addresses from pdf on PC we also have the same tool for this.
Also there are active social media links (Twitter, LinkedIn, Instagram).
And the main schtick is using their main thing 一 a rating scale.
5. Bot Clock is a website where you can create a simple email footer.
We show you this example in order to tell you that it's important to make your footer interesting. Here they use animation, all the links are beautifully located under the sender's name and we see the address, contact info.
Actually, we would also add a link for unsubscribing!
6. Bake sweet memories is a custom cake studio and bakery, where you can tell your theme or idea and they design it and create it in the cake for you.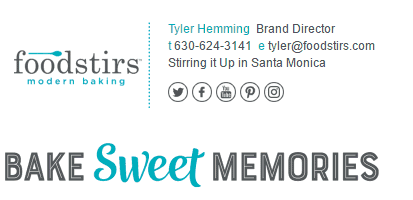 Just look how attractive their email footer looks!
Cute animation of their products keeps your attention and, of course, you are willing to visit their website and order some cakes!
Also they added all the contact details and links on social media. You can follow them and maybe even make an order via direct messages.
7. We think that Tesla needs no introduction. We'll just show you what Elon Musk's signature and email footer look like!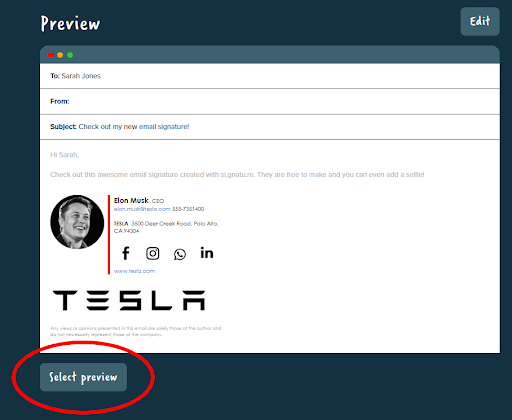 No unnecessary details or distractions!
Photo, contact details, links to social networks and a link to the site. And the logo, of course. And an important signature at the end that this is a personal email from Elon Musk and his opinion is not the opinion of the entire company.
8. Panamo systems is a music shop that sells quality equipment.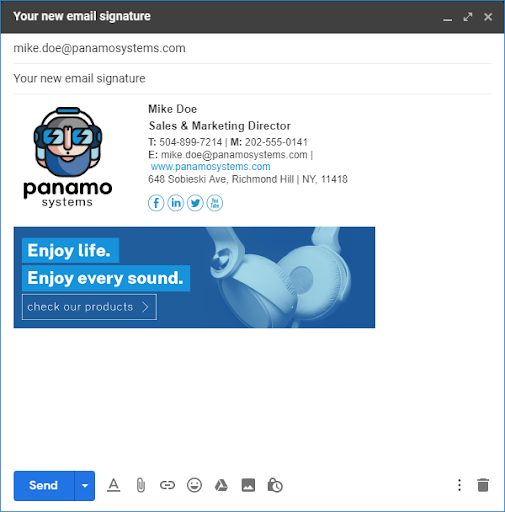 The email footer of their Sales & Marketing Director is decorated in a corporate style.
In addition to the required contact details and active social media icons, there is an advertising banner in the footer. Beautiful headphones attract attention and the recipient has a desire, if not to buy them, then at least go to the site and check the range of products available.
9. Here we have an example of Freelancer's email footer.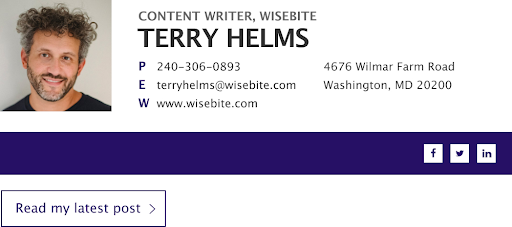 If you work as a freelancer, you need to be equally responsible for the design of your email footer. It is advisable to post your photo there. Add contacts so that the recipient understands how to get in touch with you promptly. Also, post links to social media or a portfolio site where they can see your works.
10. An example of a Photographer's email footer.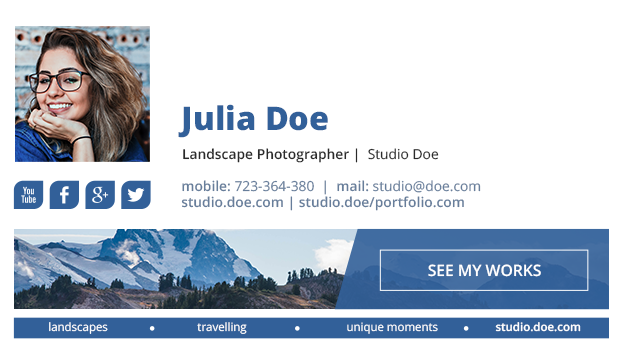 If you are a creative person and, for example, draw or take photos, then it can and even should be used in your email footer! Add to the design your photo and the photo you took by yourself. Submit your links and contact details. Done!
Conclusion
Your signature at the end of the email is just as important as the content of the main body of your email. Just make a little effort to design it awesomely, because it will work for the image of your business!
Read our other articles for updates and marketing news!