Mass emailing continues to be one of the best email marketing activities. Anyway, you are no longer able to buy a cold database of addresses, send out spam and get a result. For emails to work, you need to build an effective email marketing strategy with awesome welcome emails to start fruitful communication with your business audience.
Let's revise what's content marketing, what are its pros and cons, as well as where to start sending mass emails, via bulk email marketing solutions. Let's go!
What is a welcome message?
A welcome email to customers is the first touch with a new subscriber and is used to say "Welcome!",or "Hi!" Briefly tell about yourself and interest the person. The goal of a welcome email or a chain of letters is to win over a new user and motivate them to open the next emails. If the first impression is blurry, you may easily lose your subscribers.
By the way, for convenient management of letters use email studio. We also have convenient mail list software for managing email lists. Using the mass email extractor, you can collect email addresses for sending letters.
Why welcome emails are important
What's welcoming email best practices?
A welcome email is the first email to new subscribers after DOI confirmation, in which the brand talks about itself. A successful presentation of the company at the starting stage will allow you to establish communication with the user, build trust, expect to receive and keep attention in the future.
Of course, email marketing isn't just about sales letters. E-mails allow you to remind yourself and form a relationship, they can lead the client through the sales funnel (including completely automatically). They are used for research and surveys, sending out useful information, and more. Welcome emails for new clients are a starting point and a great fundament.
In the first 48 hours after subscribing, users are most active and interested in content from the company. A welcome letter warms up and engages a new audience, increases brand awareness.
The main advantages of email marketing are, of course, speed and targeting. If you have a well-segmented customer base, you can send targeted welcome letters to the most interested segments in a very short time.
The pluses of email newsletters include ample opportunities for personalizing emails. It doesn't matter how many addressees are in the mailing list – you can address everyone by name, mention the context of the address and create the impression of live, individual communication.
Another advantage of email marketing is the extremely low cost of sending emails. By the way, some services make it possible to send mailings utterly free of charge. So, CRM allows you to send unlimited emails via Gmail at no additional charge.
Automation is the unique plus of mailing lists that few tools can boast of. Automated emails will be sent to customers at the right time on their own. Using email newsletters, you can also create an auto sales funnel – that is, a fully automated sales process without managers' participation.
Great examples of welcome email and what to learn from them
The pluses of welcome email newsletters include ample opportunities for personalizing emails. It doesn't matter how many addressees are in the mailing list – you can address everyone by name, mention the context of the address and create the impression of live, individual communication and so much more. Here are some bets examples of welcome emails for your inspiration.
Example from Tattly
A great welcome letter from a fake tattoo company begins with an eye-catching photograph of what the product might look like on the body. They immediately give a 20% promotional code for the first purchase and show several products.

At the end of the letter, they imitate the signature as on a real handwritten letter and invite users to share photos with a branded hashtag.
Greatist
In the letter, the company immediately informs that it will send letters every day and informs the benefits for the subscriber (simple recipes, well-being and useful tips). They also ask to add the email they come from in the address book to "make sure you can get and see all this cool stuff." Feels caring for the subscriber.

Also, several top articles from the blog are immediately cited to interest the reader.
Example from Postable
The service for sending postcards sends a very cute and minimalistic welcome letter, which, however, has everything you need: gratitude for the subscription, a promotional code for the first order, CTA and links to social networks.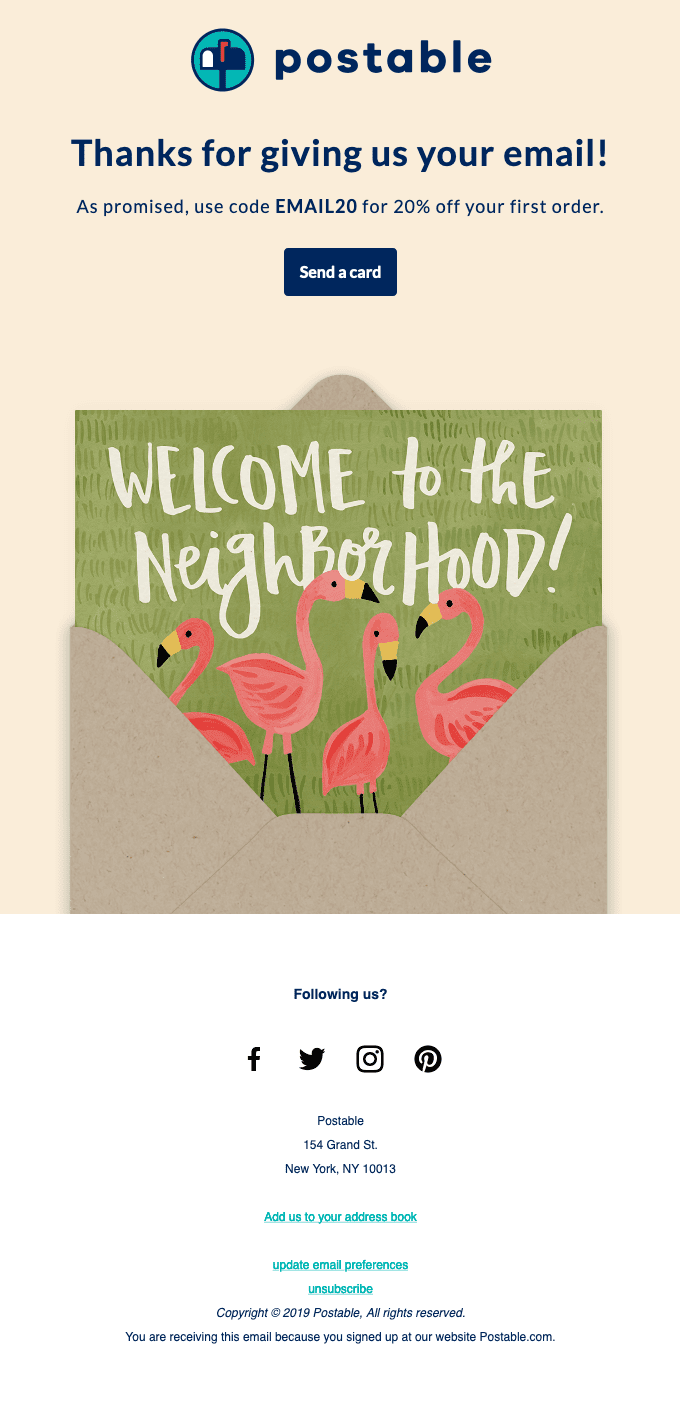 Example from Baboon
The brand, which produces bright and stylish bags, sends all new users an equally stylish welcome letter. The major items from the elements are only a short greeting, a CTA button and a link to Instagram.

Simple is genius.
Example from Bombas
The subject lines and a welcome text in the spirit of the brand: "Welcome to Bombas. Welcome to comfort." Plus, you are immediately given a promotional code "to make your legs happier", and a block with goods and CTA buttons. In the footer – all sections of the site, the ability to contact support and social media buttons.

The letter shows the product with a face gives a discount on the first purchase and acts as a site navigator. A good example in terms of structure and the design is easy to read in a couple of seconds.
Finding references and distinguishing between good and bad welcome email best practices is an essential skill for an email marketer. Being witnessed helps to form taste, spy on interesting ideas and bring them to life. This is a small portion of inspiration collected to create such a welcome-letter, after which the subscriber will fall in love with your company once and for all too.
How to create an effective welcome message?
Here's what you may consider while coming up with an idea of the best welcome email. Thank the user for subscribing, say a few words about the company, add a CTA, and wrap it up in the branding of the brand newsletter. It's a great idea to offer your subscriber a first purchase gift or other bonus.
Welcome letters in B2B and B2C segments, as well as letters from different businesses, will differ from each other, but in general, all welcome letters are composed according to a single structure and a chosen welcome email template.
You may also add the following sections to your subscribing email template.
Header with a logo
Header with a logo will be a great idea. The picture must be of high quality, with the brand name prescribed by the alt-text. It is better to leave contacts, address and other information for good.
A gift box
A special block for new subscribers who came from the lead magnet or special offers may be added here too. Apply some newsletter quiz ideas if you have nothing to gift. Instead of giving something, entertain your users. You may do it like this: in the first letter – a promotional code for the first purchase; in the second – a demonstration of social networks and the additional possibility of ordering from Instagram; in the third – the presentation of the mobile application, etc.
Greetings and thanks
When it is all done in the spirit of the brand, it immediately attracts the subscriber. For example: "Konnichiwa!" (for a Japanese language school) or Welcome to Natural Cosmetics (for a beauty brand product or service).
This block of welcome letters often contains a personal message from the CEO or the story of a company founder, etc.
A company story
Briefly describe what you do and how you will be useful to the new subscriber. It is better not to get carried away with telling the full biography of the brand, but to focus on the benefits of the newsletter for the person.
Footer
Create an automated send-out through subscription emails examples with a guide to the site's main sections to motivate the subscriber to study it. Showcase popular products or services, add a couple of top blog posts, or tell them where to start exploring a complex product. A complete list of sections of the site and the FAQ are best placed in the footer.
CTAs
To improve the experience of the customer's first touch with the product, present the bestsellers or the most popular services in the first letter. Use CTAs: CTA buttons in welcome emails increase sales because the audience is most interested in the product in the first two days after signing up. Apply signup email templates.
Offer for the first purchase
A nice bonus for all new subscribers will be a discount on the first order, a free trial or a gift upon purchase, delivery at the expense of the company, free consultation and other gifts that you can offer.
Welcome offers may run for a limited time. For example, it may be set for a few days after receiving. This motivates the new subscriber to order faster and get to know your brand. Use thank you for signing up email template and adding there various incentives.
Social media buttons
Do not forget to offer to subscribe to the company's accounts on popular platforms or use an account creation email template for future emails. It's an organic way to get new, interested subscribers.
The super trick here is social media teasers. For example, the last three posts from the Instagram feed will prompt the subscriber to view the complete account of the company and increase engagement rates.
Mind design & decoration
Pay close attention to welcome email template for new customer design and details that reflect the brand's philosophy. Add branded illustrations or gifs to make your first letter interesting so that the subscriber wants to read it to the end and share it with other users.
Welcome emails may feature a bright, memorable banner that favorably represents the brand. The critical benefit block that describes what the company does is often icons or illustrations. This block is usually not used in regular mailings and is created only for the welcome chain.
The design should support the brand's style as much as possible: corporate colors, logo and other design elements are used. Linking to the branding and website style is important to anchor the brand image in the person's mind upon receipt of the welcome chain reading time. This is how welcome emails differ from other newsletters, where a brand can afford to experiment with design to boost the open rate.
At the same time, a single style should still be traced. Regardless of whether the mailing is going from ready-made blocks or each letter personalized. Create letters developed individually; the design system should be supported in all mailings of the brand. This increases awareness and leads to consistency.
In conclusion
Agree, a few people are waiting for the following promotional letter to the post office. Even before the launch of the first campaigns, you should carefully think over the details so as not to get lost among competitors from the very first mailing. What do you need to consider before launching welcome email campaigns will be the following: effective email marketing requires at least two services.
Firstly, the service of email sending program where from your welcome series will be automated personalized and sent and a great letter constructor with awesome thanks for signing up email template. This may also come in handy if basic designs aren't enough. In the article, we hope you did find an overview of great designing tips to increase your welcoming series open and conversion rate.
Make it an optional choice and offer them an advantage if they send their email address, such as an email receipt, faster delivery, a free gift, or a discount code even during saying hi! For this apply effective thank you for subscribing email example templates, examples of the popular brands to get inspired and achieve greater results with your campaigns to the fullest.
In our collection of software there are also mobile extractor collecting phone numbers, whois for email addresses in order to find information about the owner of the email and a bulk email checker for checking the email address.
Inspired by https://www.thekickassentrepreneur.com/email-marketing-software-for-saas/