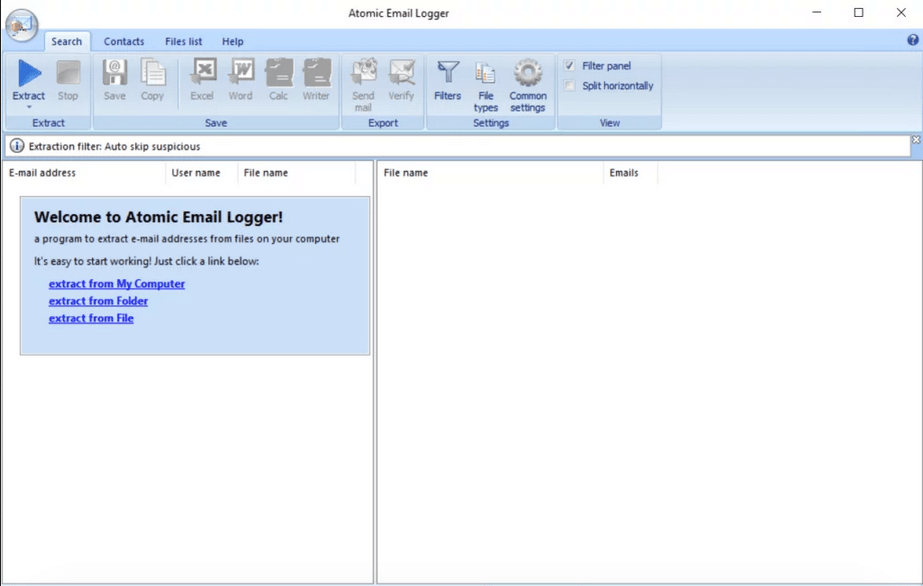 Email addresses are a valuable resource. You can use them to send out newsletters as part of your marketing campaign. However, it's not always easy to find and extract email addresses from text files in Windows. Doing this manually can be cumbersome and time-consuming. That's where this article comes into play! 
Here, you'll learn how to extract emails from files on Windows with a handy tool that automates the process so you can focus on the important things — reaching out to the people that matter to your business.
What Is Email Extractor And How It Is Used
An email extractor is a piece of software that is typically used to extract email addresses from files to be used in marketing campaigns. 
With this nifty tool, you can collect e-mail addresses from internet sources, including websites, forums, blogs, and social networks. You can also use it for offline sources, such as txt, pdf, excel, and saved web pages on your computer system.
If you are looking for ways to collect addresses for your marketing campaign, then a files email extractor is definitely something that you should consider. 
How To Extract Email Addresses From Files And Folders On Windows Using Email Logger
Atomic Email Logger is a powerful tool that lets you search through all your files and folders on your computer for e-mail addresses, and export them in the format of your choice. In addition to being able to search through all your computer, this program is also ideal for extracting email addresses from Excel.
What types of info can be extracted
Atomic Email Logger can get the following types of information from your computer system:
Names
Contact data
E-mail addresses
Phone numbers
What file formats are supported
Using Atomic Email Logger, you can strip email addresses from text files in any folder on your computer! The program supports multiple file formats including:
Text documents
Excel spreadsheets
Word documents.
PDF 
Open office files
Outlook express IDX and BDX files
Internet temporary files
However, if you are looking to extract email addresses from Gmail, then you will need a different program. 
The short guide to extracting e-mail addresses from files on Windows
The best way to get e-mail addresses from files on your computer is to start with the 7-day trial so that you can see how it works. Once you have everything all set up, follow these steps to start using the program.
Step 1. Open the program
Open the Atomic Email Logger program by clicking the icon on your desktop, or taskbar, or looking for it in your start menu programs.
Step 2. Choose where you want to extract from – the entire computer, folder, or file
If you want to extract data from emails on your entire computer, then click "Extract from my computer." If you want to extract just certain folders or files, then click either the "Extract from folder" or "Extract from file" option instead.
Step 3. Click OK and choose where you want to save the results
Once you click OK, the program will start running and you will be able to see what is happening on the screen. At the end of the extraction, you can save the results in the location of your choice. 
Why Choose Our Atomic Email Logger As An Email Extracting Software Over Competitors' Software?
The Atomic Email Logger has a wide range of features that make it not only easy to extract email addresses from MS word documents but also a lot better than other software on the market.
The top features of this product include:
Feature 1. Multiple search places
With Atomic Email Logger, you are not restricted to only one search point. The program can search specific files and folders to get you the results you want.
Feature 2. Plugins for more file types
This software has plugins that can extend the functionalities you get. If you want to extract your contacts from CSV, ZIP files, and even popular mail clients, there are extraction plugins for that.
Feature 3. Extract contacts from Skype
If you have contacts on Skype, Atomic Email Logger can help you to look for contacts in your messages and put them into your list.
Feature 4. E-mail filters
You can easily use the filter option to sort out the addresses in your list. You can also determine file types to skip.
Feature 5. E-mail address management
Another great feature of the Atomic Email Logger is the ability to manage your e-mail addresses. You can use this tool to add, remove or categorize addresses. 
Feature 6. Mass email and list management product integration
Best of all, this helpful tool from Atompark Software can help you manage mass e-mails and lists with ease. You can verify the validity of your results using the Atomic Email Verifier and send them using Atomic Mass Sender.
Other useful features include:
High-speed extraction at 2500 target mails per 5 minutes
Multiple export options including DOCS and DOCX
Preview the results of your scan while it is running
Closing Words
Atomic Email Logger is a powerful program that shows you how to extract email addresses from Microsoft on Windows. It's the perfect choice if you are looking for an e-mail address extractor.
Want to do a test drive to see how it works? Download the 7-day free trial version today.