The content of your e-mails may be absolutely varied. Some marketers include entire articles in their emails, some a list of headlines with a teaser paragraph and a thumbnail image, and some just a list of headlines, etc. Which of these works best and encourages people to click on links? How to improve email CTR? Let's check out some useful tips to Increase Customer Retention Through Email Marketing.
7 Ways to Increase Email Click-Through Rates
So, how to improve email click through rate?
There is no universal recipe to solve this issue. However, there are at least seven proven strategies for making your email campaigns as appealing to your audience as possible to increase click through rate of email before you extract contact info from website.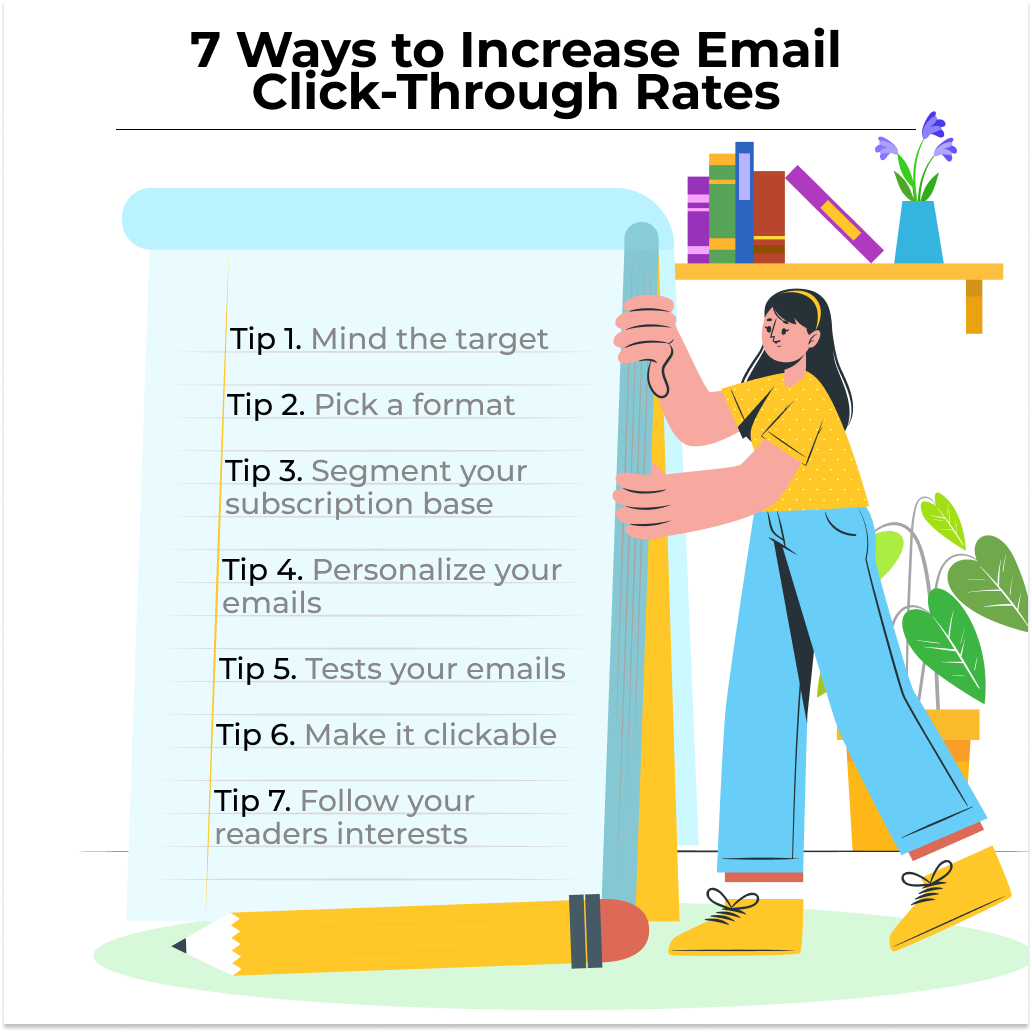 What is email click through rate?
To better understand how to increase email CTR, you need to remind the term and the meaning:
Click through rate (CTR) is the ratio of the number of clicks/transitions to the site to the number of email views.
Here are some tips to boost email click through rate
Business owners often want to find the right balance between business needs and user experience. Writing only a list of headlines or teasers in an email and thereby attracting visitors to the site may seem like a good solution. But it is not always convenient for users. They may read your letter from a mobile device and it will simply be inconvenient for them to go to the site to read an article or other material that you have prepared for them. And then, most likely, your letter will not bring you the results you expected – your content will not be read, etc.
Email studio experts may offer you several easy to apply and useful tips to optimize your emails and make them stand out from all the rest. Here we go.
Tip 1. Mind the target
Think about your readers. It may seem surprising, but sometimes writing an entire article in your e-mail is the best way to get it across to your readers and icreate a sense. They will be able to open your letter on a computer or on their mobile device, read it and delete it or forward it to friends when finished.
Tip 2. Pick a format
When choosing the format of your letter, always ask the question: "Do I need to make reading the material as convenient as possible for the user and encourage them to open your emails and read the entire article, or is it still necessary to attract a visitor to the site? The best email format for your newsletter depends entirely on your audience. And the most reliable way to determine this format is to try several different options.
Tip 3. Segment your subscription base
Segment your list of subscribers or target your emails to specific groups in your subscription base. It is always a win-win strategy for increasing email response. This way you can send the most relevant content and your offers to subscribers. This will immediately increase the open rate of your emails and the click-through rate of links in them.
Tip 4. Personalize your emails
Chat with your readers, conduct various surveys and questionnaires, talk to them on the phone when they call your support team – use all the methods available to you to then make your letters tailor made. Ask your audience what really matters to them in your emails and why. Use their responses to adjust your email strategy if necessary. Apply personalization tools from our software to the fullest.
Tip 5. Tests your emails
Measure the percentage of the number of people or your subscribers who open your emails and how many of them click on the links in the email. This is the best way to understand how certain changes affect its effectiveness. Conducting split testing, in which one half of the audience gets one email format and the other half gets the other, is also one of the most effective ways.
Tip 6. Make it clickable
Make links in your email visible. Make sure your email contains at least a few links in various formats. Place the link at the beginning, in the middle and at the end of the email. Using links in various formats will allow you to be sure that your subscribers will be able to click on them even if images are disabled in their mailbox settings. Include social sharing options or social sharing buttons.
Tip 7. Follow your readers interests
Your readers like to know what they are getting, especially out of fear of missing. If they find the subject of the letter interesting and intriguing, they will open it with pleasure. Write a boring or incomprehensible title, or worse, mislead your readers, and you will immediately feel how ctr has dropped. Don't leave your readers disappointed or annoyed after reading your emails.
Conclusion
These strategies are quite simple at first glance. But incorporating them into your email strategy will bring you guaranteed results. Your readership will look forward to your emails and click on the links within them, aligned with the terms of service, etc.
By the way, if you want to know how to increase the deliverability of your emails and bypass them from getting into the SPAM folder, how to personalize them and check for fails, etc. feel free to apply our email marketing software in no time. Use Atomic Email Studio for your newsletters to keep everything under control. Read more about its features here.