To write an effective letter to be opened & read, the best time to send email blast is needed. Inexperienced marketers get stuck just before sending. What time's best to launch the letter? Is it really worth sending it today? Should we verify email online first? What if no one responds? Let's check out the data to pick the right time & boost opens, clicks, and sales via bulk mailers.
19.9% ​​of openings occur on a certain day of week. And that's Tuesday! Thus, the highest open rate is achieved in the middle of the working week.. Luckily, if you use effective mail marketing software.
That's what a GetResponse research proves. Their specialists are convinced the best time is Tuesdays. Look through a useful infographic: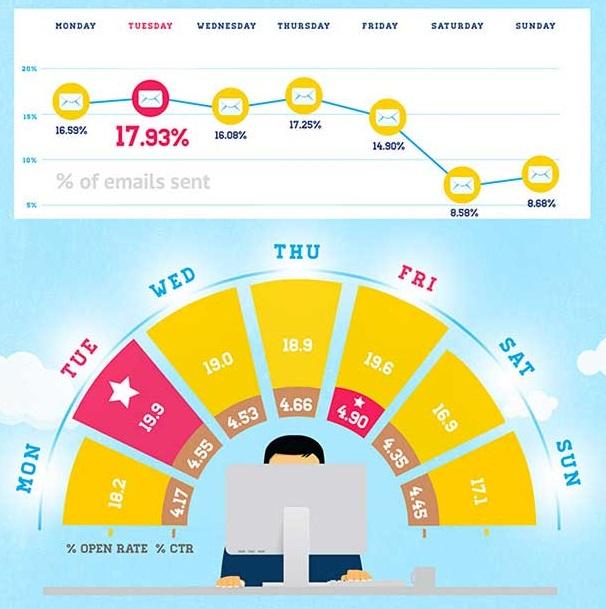 So, should you do it on Thursday? – Undoubtedly. It's the best day to send email, especially if the letter contains a special offer with a deadline up till the weekends. Those who will check their mail boxes only on Friday will be there.

Incredible mail marketing statistics
There are so many incredible studies that help us to understand better why & when is the best time to send an email, how often to use manual settings to get more opens and so on.
Look up for useful tips and ideas on how to improve marketing open & click rates, and the ROI (Return on Investment) of your marketing in general for any business you're in.
Here's a list of the most interesting studies about letters that go to show just how valuable they are:
    Widespread of mails cannot be underestimated and relies on the best day for email marketing chosen before texting launches.

In 2019, global mail users amounted to 3.9 billion users (Statista, 2020). This figure is set to grow to 4.3 billion users in 2023 (Statista, 2020).


    Billions of letters are sent on a daily basis, but on the right time of day to send email.

293.6 billion texts are sent & received every day (Statista, 2020). This is going to be the a hugest amount of letters on a daily basis. Not just that! This data is increasing to over 347.3 billion in 2022 (Statista, 2020).


    Letters sent on the right days are more likely to drive you the highest returns of investments.

You may expect an average return of $42 (DMA, 2019) for every $1 you spend to send email campaign.


    If you pick a good time to send email campaign, you also get higher odds to distribute your most valuable content.

87 percent of messages with compelling subject lines are distributed via letters. Letters are the third most popular distribution channel.

Here are some best period charts from Neil Patel:


So, as per Campaign Monitor, the time to send business email is just behind any social media at 91 percent and official websites or blogs at 89 percent.


    Don't neglect welcome mails in your everyday practice.

82% is the average open rate for an average welcome letters (GetResponse, 2017).

So, when you should send an email to greet your users, start from the beginning of the week. How do you choose the time so that as many recipients as possible open such mailings?

Again, there is no single standard when it is best to send a letter. But there are many criteria to consider each time & experiment. Finally, your target audience for mailing counts!


    Segment your subscriber base and take into account their interests, habits and schedule of each group.

For example, entrepreneurs tend to check letters during lunchtime on weekdays, on Wednesdays. So, it is great to send newsletter on Wednesday to them.

Ordinary employees check boxes after work or on weekends.

Evening mailing is preferable for millennials & buzzers. They are born from 1984 to 2000 and from 2000 to 2015).

For older readers the morning hours are still more relevant, etc.
As a compromise, you may plan to send an email on Monday, or begin no later than in the middle of the week and see how your results improve depending on each target group.
Good time to send email campaign: general advice
When do you need to optimize time to send out email blast?
We tend to think about those ideal timings for sending a campaign. It's different in each case & is not universal. There's no recipe for success. Achieve ideal mailing days relying on business specifics, goals & users behavior, etc.
You may apply the world's best practices and appeal to the best emailing studies from time to time to get useful insights to send mass marketing email in the right place & time.
It is wise to remember: When you're just getting started with mail marketing in business, nice tips, research & stats on marketing provided by an agency may help you to define your optimal send out email newsletters time & place faster.
Also, mind that all people are individuals, and the main thing is that everyone has their own plans and preferences. Stick to it while making up your campaigns. Don't forget that at times you have to manually set the timing of your sendings.
In addition, consider other things that affect top dispatch time:
Branches of activity.
Target audience and their behaviors.
Its geography.
Season.
Any unusual tendencies happening .
Any vogue & hype.
Other factors for the most effective time to send email.
With all this in mind, if you don't need to send all messages at the same time, tailoring letters to each user brings positive results.
But you have to understand that there are no strict rules on day & hour to get in touch with readers.
It all depends on the target audience:
separate subscribers by gender, age, income level and place of residence;
send letters to different segments of the base on different days;
experiment, test, track real results and make changes to send out emails.
Repeat the process several times and you will be able to figure out the best marketing times for your business.
Do not forget to work out your unsubscribes regularly.
No matter how often you send job application email and how optimized your emails and registration forms are, there will always be unsubscribes. Therefore, it is necessary to constantly collect new subscribers in order to balance the losses. And, update & expand your customer base on a regular basis.
The allowed number of unsubscriptions is up to 1%. Exceeding this limit indicates that it is necessary to clean the database.
Conduct deeper segmentation and message to the appropriate subscriber groups. Also, make sure your mail providers keep it clear not to perceive your mailings as spam.
You may anytime remove unsubscribes from all groups in one click at once.
And last but not the least, as soon as the statistics of the conducted mailing campaign are formed, evaluate the results. Did you get what you wanted? If your site visits and sales remain low after the mailing, ask yourself the following questions:
    How logical and consistent are your letters? Do they lead to a certain goal?


    Is there a clear CTA?


    Is the timing ok?


    Are there links to your website in the messages? Are they functioning ?


    How valuable is the content to your users?


    Are you offering the same thing, making your newsletters boring for your readers?


    Do you send on the right days to the right people?


    Which tricks work, which doesn't work?
Always keep track of the results of your mailings. Turn it into the best time to send email campaign or even a group of events.
By determining the number of people who read the mails, on what days, times, making a purchase. By correctly analyzing this information, you will ultimately increase your sales and income.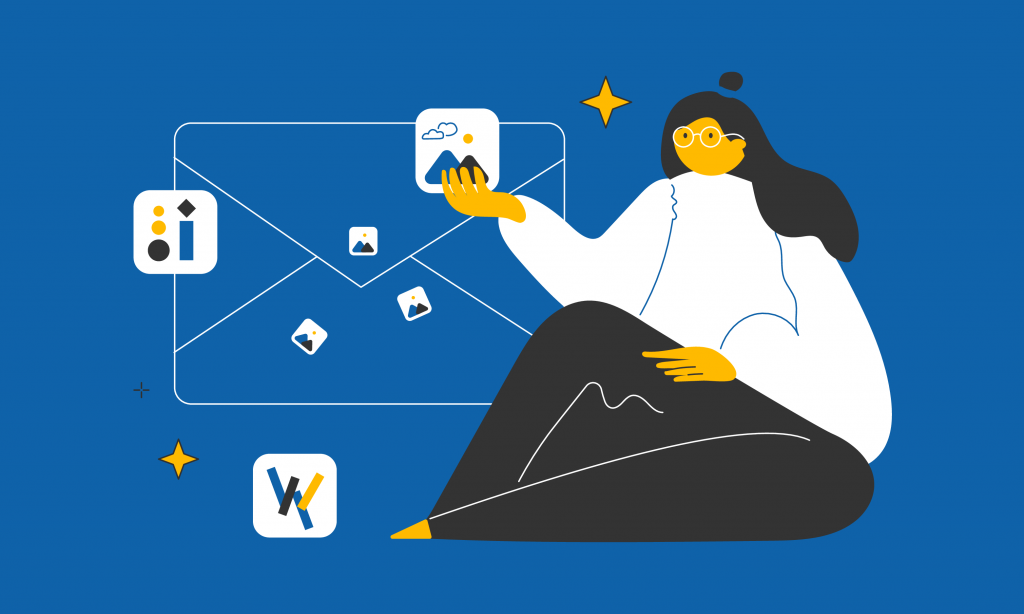 Why does timing matter for email marketing?
Timing your marketing emails correctly may become a huge difference between a successful campaign and a missed opportunity or a failed one.
The point is that no matter how good your message or content may be out there; if you're delivering it at the wrong time in the wrong place then you're doing yourself a massive disservice.
That's why it's essential to mind the marketing emails' timing, hot hours, and seasons.
Seasonal changes
Seasonal changes are typical to email marketing. They may affect the campaign results. However, From Halloween to Black Friday, Cyber Monday to Christmas, Hanukkah, and New Year's, and others – these landmark popular events may also provide a great opportunity for marketers to increase their companies' brand awareness and drive more sales. So, you should send your holiday mailings in time and place and prepare them in advance.
How to Find the Best Time to Send Emails for YOUR List
For mailing, Tuesday, Wednesday, or Thursday are the most preferred. By time: from 12:00 to 13:00 or from 16:00 to 21:00. If there are two letters on the mailing list, send them on Tuesday and Thursday. But how's that that you know the best time?
With the help of the top-notch list management tools, you may track the progress of your campaign and make tests to define the best time and way for your next mail blast to your lists.
Read also about how to improve email deliverability.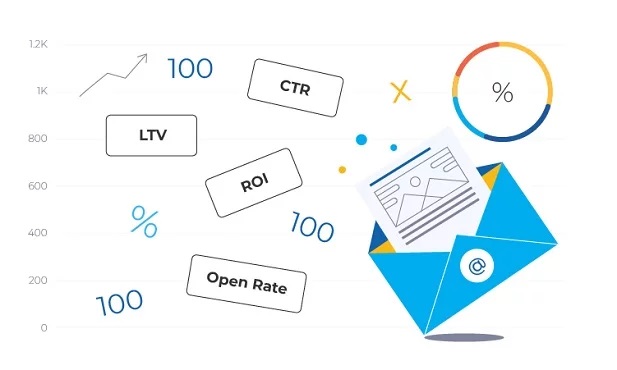 Trying and Testing with Atomic Mail Sender
With the help of Atomic Mail Sender, you may try and test your emails and schedule, create, send emails, and track the results of the bulk mailing. The main advantage of this tool is the unlimited size of contact lists, data storage on your PC, and choice of any SMTP you want.
The easy-to-use interface is simple to understand even for beginners, so everyone may start sending emails right after installing the program
Share your experience in the comments. Tell us, what time do your subscribers read the newsletters the most? Not to miss new useful studies about e-mail marketing and more, subscribe to our blog. Good luck!