menu
About Atomic Email Logger
What is Atomic Email Logger
Atomic Email Logger (EML) is an unique program to extract e-mail addresses from any files on your hard disk, floppy disk, MO, CD-ROM, DVD-ROM and Local area network. EML may extract e-mail addresses from Internet mailboxes (Outlook, Outlook Express, The Bat!, Eudora Mail etc), newsgroup archives, Windows/Outlook Address Book, My Documents folder or any other file/folder on your machine!
Your hard disk may contain thousands of e-mail addresses that you're missing out on. These addresses can be found in Program Files, Internet browser cache and many other places - but without gathering them, these resources go unused.
You can collect thousands of addresses without ever having to connect to the internet!
Satisfied customers tell us they have found 3,000 to 10,000 fresh addresses searching Temporary Internet files alone. How many addresses are you losing out on?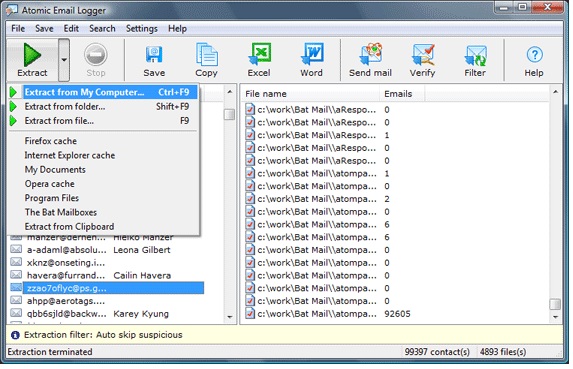 How does it work
Atomic Email Logger extracts e-mail addresses using our know-how extraction technology. It finds maximal number of e-mails and excludes incorrect results. Independent tests show what EML extracts almost of all e-mail addresses from all types of files. No one other e-mail grabber shows such high results!
This new second edition also supports the plug-ins technology. Downloading new plug-ins you increase the number of supported types of the files extremely. The simple light installation package goes with MS Word, MS Excel and Adobe PDF file parsers. Every day we are working under the new extensions. Visiting our web site you can meet all of them.
Drag and drop
Prefer mouse? No problems - just drop the file from Windows Explorer to Atomic Email Logger window and it will extract e-mail addresses from the files.
That's not all - you may drag and drop Outlook and Outlook Express messages - and it will find e-mail addresses there. Also, you may drag the portions of text from any application and drop it to Logger's window. The dropped text will be processed and e-mail addresses will be extracted from it.
Advantages of the registered version
Only obtaining the fully registered version of Email Logger you are able to save search results into the file or Clipboard and export to the MS Office applications (Word, Excel). Being a registered user you have huge discounts for ordering our other e-mail management programs.
See also:
Working with Atomic Email Logger
More e-mail management software