menu
Save results
Atomic Email Logger can to export the results of extraction into the following formats and applications: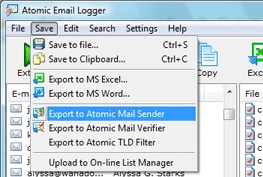 • Any text file;


• Windows Clipboard;


• MS Excel;


• MS Word;


• Atomic Mail Sender;


• Atomic Mail Verifier;


• Atomic TLD Filter
You can save e-mail addresses only or any number of fields (for ex, e-mail addresses, user names and cell phone numbers).
Please note that free trial version allows saving only 7 random contact. Please register to remove this restriction.
Fields to save
You can customize what you need save. See the screenshot below. You should check the fields you want be saved.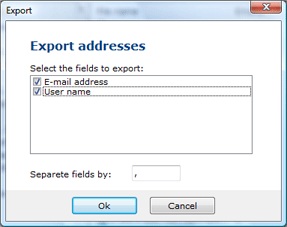 See also:
How to extract e-mail addresses