menu
Using the Atomic Lead Extractor
Atomic Lead Extractor is a program to extract e-mail addresses and phone numbers from Web sites and search engines. Below is a screen shot of the program under Windows 7 (it runs under Windows XP and Vista as well):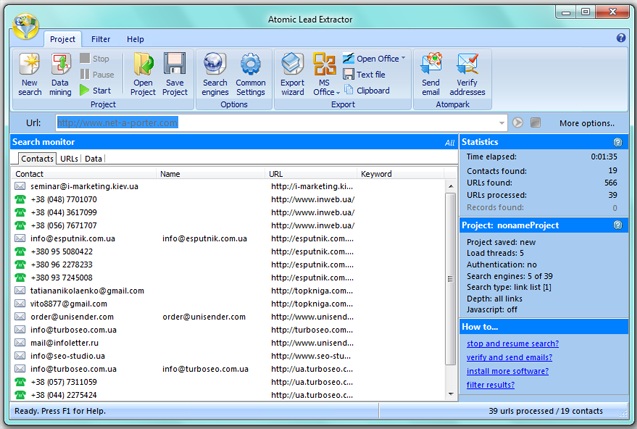 Atomic Lead Extractor is very easy in use.
You have two options to start search:
1. New search.
2. Custom Search (starts New Project wizard).
2. Data mining (find typical pages and extract data).
Click More Options... button and you can set some limiting parameters for your search, such as the search depth and keywords filters. A new pull-down panel will shown to customize the extraction.
Results of your search will appear in this window. You can see emails and phone numbers under Contacts tab and proceeded web pages under URL tab. Each found address takes its own line with some additional information - the name of address' owner and location where this e-mail was found first time. When you are saving the results this additional information can be stored together with a list of addresses. This is a good way to make a targeted mailing list with personalization details.
When e-mail addresses are found you may save them to a file, copy to the Clipboard or export to the Microsoft Office or Open Office application. Merely, click on the appropriate icon of the toolbar.
See also: