menu
Email Address Verification
After you have extracted email addresses using Atomic Email Hunter, you can check their validity and verify their existence before creating and sending emails. This will help you to avoid emailing nonexistent addresses.
How to clean email lists? You can verify email addresses with the help of Atomic Mail Verifier. First, make sure that this program is already installed on your computer.
Download Atomic Mail verifier from our website: /bulk-email-verifier/
It will take you less than 5 minutes to install the program, which is a powerful tool for email list cleaning. This can protect your e-newsletters from being sent to nonexistent or invalid email addresses.
After installing Atomic Mail Verifier, you can continue working with the list of email addresses extracted by Atomic Email Hunter.
Atomic products are fully integrated with each another. And you can quickly transfer extracted email addresses from Atomic Email Hunter right into Atomic Mail Verifier without storing data in intermediate files.
Choose menu item Tools / Verify email addresses to run Atomic Mail Verifier and verify extracted email addresses. Or click AtomPark/ Verify email addresses on your toolbar.
Important! The demo version of Atomic Email Hunter cannot save results. You must register your copy of the program.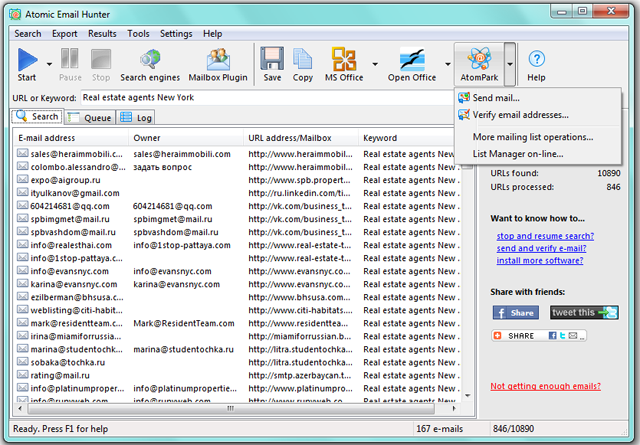 After transferring extracted email addresses to Atomic Mail Verifier, you can check their validity.
Important! If Atomic Mail Verifier is not installed, Atomic Email Hunter will offer to download and install it.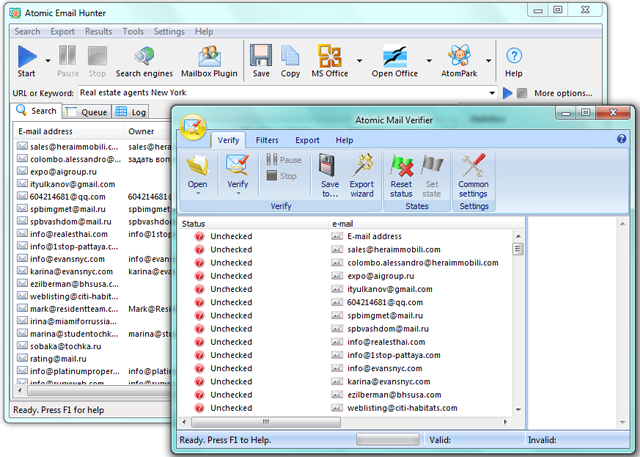 Email addresses will be verified within minutes, easily and safely providing you with a clean list of correct and valid email addresses.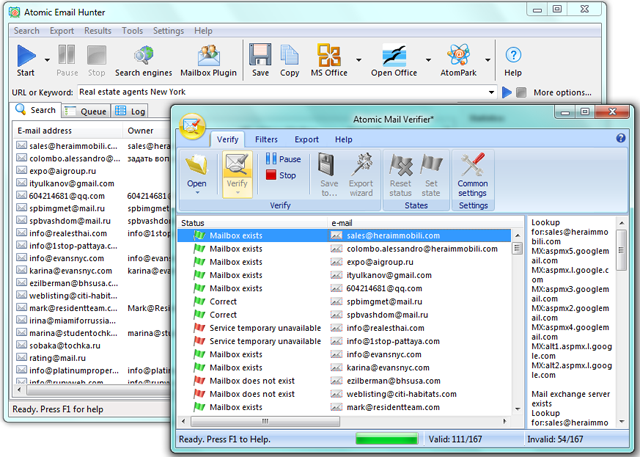 See also: