menu
Mailbox plugin
Atomic Email Hunter supports plugin technology and contains a built-in Mailbox Plugin. Its aim is email address extraction from your mail account. When using Mailbox Plugin for Atomic Email Hunter, the program connects to your mail server, scans email messages you have received and extracts all available email addresses, even from the email body. You can limit the hunting options and scan headers of email messages only, so you will get the addresses of people who have ever sent you an email, your correspondents.
Note! Mailbox Plugin is built-in by default and you can use it right after launching the program BUT to save the extracted results you should buy and register the plugin.
Click the corresponding button on the toolbar and see the Mailbox Plugin settings.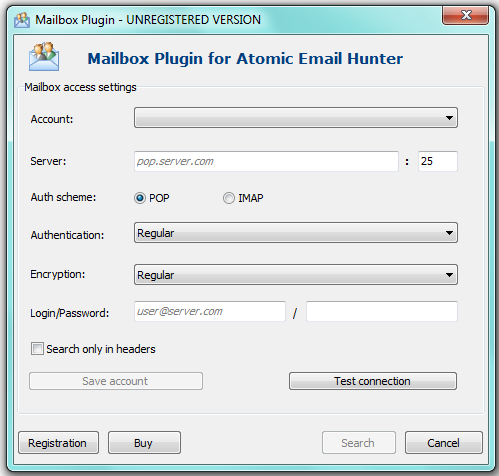 "Account" — here you can find the saved account information
"Server" — enter the server name you have a mail account on.
"Auth scheme" — Mailbox Plugin supports both POP (search within inbox folder only) and IMAP (explore all folders) connection types.
"Authentication" & "Encryption" — choose the necessary data considering that Plugin supports servers that require SSL connection.
"Login/Password" — the access to your mail account.
"Search only in headers" — it's up to you if to activate this parameter and limit the search to the headers of email messages in your mailbox. If active then Atomic Email Hunter will ignore any email address mentioned in the message content.
"Save account" — save the information you have entered about your account and plugin settings. The saved information is available in "Account" drop-down list.
"Test connection" — test the correct program connection to your mail server. If the connection fails – the error message appears. Check Mailbox plugin settings or contact our technical support.
After Atomic Email Hunter extracts emails from Gmail or any other mail account you are provided with the opportunity to export emails into a file or another Atomic program.
The Mailbox plugin is included into Atomic Email Hunter; you can buy it by clicking the "Buy" button in the Mailbox Plugin window or by clicking the button below.
Mailbox Access Settings Example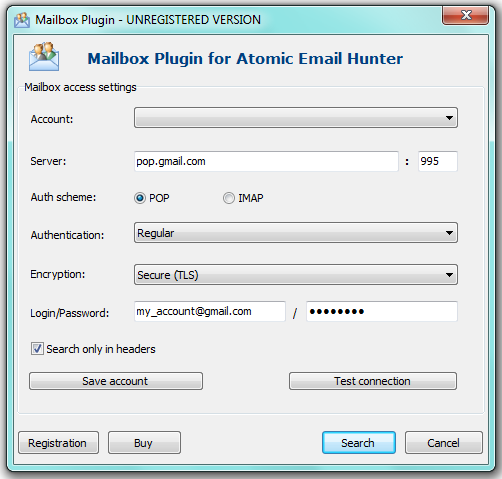 Mailbox access settings for .gmail.com
1) enter the server, as in the example, and port number
2) choose the necessary authentication scheme
3) specify authentication (if necessary)
4) select the encryption (gmail.com server requires secure TLS encryption)
5) enter Login and Password of your current account on gmail.com
6) check "Search only in headers" if you need to get correspondents' addresses only
7) test program connection to the server in advance
8) save account with all specified settings.
See also: