menu
Restoring after crash
Atomic Mail Sender is a very difficult program in works. We do our best to make it work with less number of crashes. But Atomic Mail Sender can crash from time to time.
If Atomic Mail Sender crashes when you deliver e-mail, the data recovery is possible almost completely. Your mailing list and statuses of sent and non-sent messages are usually restores. If a project was saved to a file, it is also restored and you can continue a delivery like it did not stop working at all.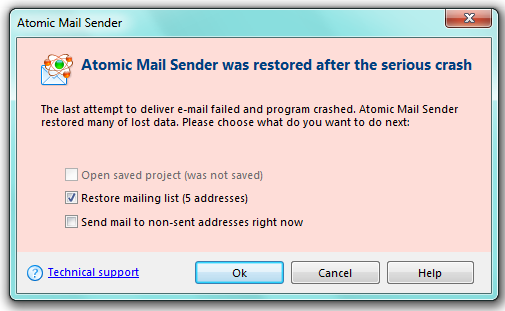 You can choose these options:
Open saved project (was not saved)— the program automatically runs the project that was saved to the folder before crashing. The program do the autosave while working. If the project was not saved, the data recovery is possible from the autosave file. But some data can be lost.


Restore a mailing list (5 addresses)— the program runs automatically with the mailing list you have loaded before crashing (there is a number of the recipients in the brackets). Click "Recipients" button in the toolbar. The loaded recipient list is already in the "Recipient List" window and you can start the delivery.


Send mail to non-sent addresses right now — recommened to be checked in with "Restore a mailing list". The "Recipients List" window runs automatically with the current recipients list. Click "Start" button to continue the delivery.
See also: