menu
Spam Check
You have an opportunity to check your message and find out if it can be delivered into the "Spam" box. This checking is done with the help of the Spam Assassin filter.
Go to "Service"/ "Spam Check" menu or use the corresponding button in the toolbar. The new window will appear. Wait for a little and see the result of checking the current message.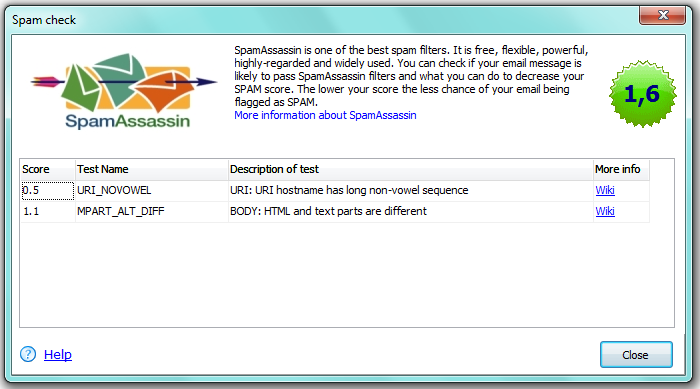 There are some parameters for finding out spam-messages and the filter uses them while checking.
"Score" —the filter uses points for rating the message. The filter's pass-through function depends on it's settings, that can differ with recipients. It can be set for the point 2 for passing messages and all the messages with higher point will be marked as spam. The lower your score is the less chance of your e-mail being marked as spam. Every "mistake" rates separately.
Standart filter settings
The score is from 0 to 4 and with green background — your message has a good score and is likely to go to the recipient's "Inbox" folder.
The score is 4 to 6 with yellow background — the message has some issues and your e-mail is likely to be flagged as spam. Try to fix most of the issues as possible before sending your email.
The score is 6 and higher — the background is red. Your message is spammy and most likely it will never reach the recipient's "Inbox". Try to fix most of the issues..
"Description of test" — the brief description of the found mistake.
"More info" — clicking the link you can go to Spam Assassin website and read more information about the mistake.
If there are links in your message, then Spam Assassin will check them using third-party services. Before running the filter, check the Firewall and find out if there are inbound traffic rules for Spam Assassin that allow the Internet connection. Otherwise, when Spam Assassin tries to connect the web, a warning window will appear.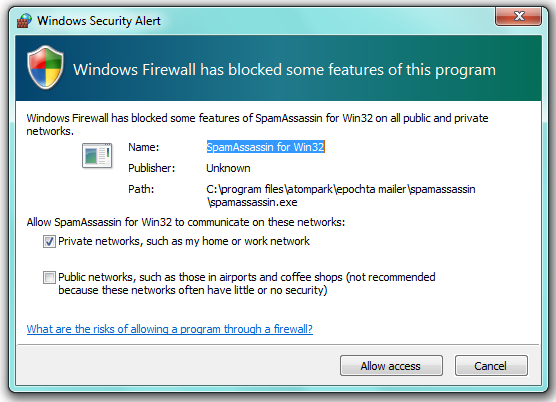 Click "Allow access" to allow access for Spam Assassin to the Internet.
You can learn more about the way Spam Assassin works here.
See also: