menu
Sending mail
Press "F9″ on your keyboard or click the "Send" toolbar button for quick access to the "Send Mail Monitor". If email recipients addresses were loaded to a recipients list, the "Send Mail Monitor" window will open, otherwise it will take you back to a "Recipients list" window.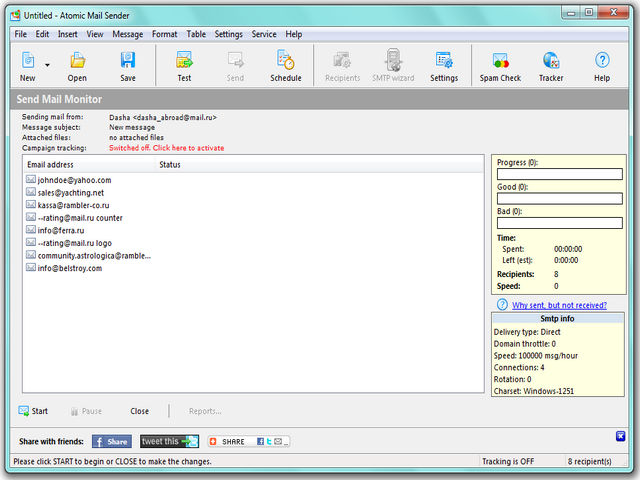 "Start" — it's a button to begin sending mail.
"Pause" — it's a button to pause the delivering. Sending messages can be continued by clicking "Resume" at any time
"Abort" — it's a button to stop delivering messages. The program will ask if you really want to stop the process.
The results over the current delivering are in the left menu
"Progress" — the total number of the worked over messages


"Good" — the number of sent messages


"Bad" — the number of failed messages


"Time" — the total time of delivering process


"recipients" — the number of the recipients in the current list


"Speed" — the speed of the delivery. You can set this parameter in "Settings"/ "Common settings"/ "SMTP"


"SMTP info" — the information about the delivery type, domain throttle, speed, connections, rotation and charset. For more details see "Settings"/ "Common settings"/ "SMTP".
"Reports" — making reports over the delivery.
For using monitoring press "Campaign tracking" and switch it on. Atomic Email Tracker will be opened.
"Share with friends" — share the information through Facebook, Twitter or other messenger.
Sometimes Atomic Mail Sender cannot be configured automatically and emails cannot go through. You can find out more details about the email delivery problems you can in the "Why my e-mail messages are not delivered?" section.
See also:
How to increase email open rate
Messages are not sent from Atomic Mail Sender